A Revolutionary Cannabis Investment?
Some of the greatest investment minds in the world say, "You invest in management." And since the birth of MarijuanaStocks.com, few management personnel have shined brighter than Cannabis Wheaton Income Corp. CEO Chuck Rifici. Mr. Rifici has accomplished with Cannabis Wheaton something that no other cannabis industry CEO has. The business model he has implemented is something that we feel every marijuana investor MUST know about. Cannabis Wheaton (KWFLF)(CBW.V) provides a very unique opportunity for marijuana investors by greatly reducing risk while still maintaining tremendous upside potential.
But before we explain the Cannabis Wheaton business model and why we feel EVERY investor should know about it, let's first take a look at Chuck Rifici. Because as we said earlier, "you invest in management." And there may not be a more recognizable managerial figure who has done more for the marijuana industry than Mr. Rifici.
Invest in Management
Chuck Rifici is responsible for co-founding and taking public the largest full-scale producer of government-sanctioned marijuana as its CEO in April 2014; a company by the name of Tweed Inc. whose name later changed to Canopy Growth Corp. (TWMJF)(WEED.TO). To this day, Canopy Growth remains the largest public cannabis company with a staggering market cap of approximately $1Billion. In 2016, WEED hit $17.86 approximately 550% higher than the IPO price. It is widely agreed to be the most successful marijuana company to go public and is seen as the benchmark and leader of the industry.
Take a look at how WEED stock has performed over the last 2 years: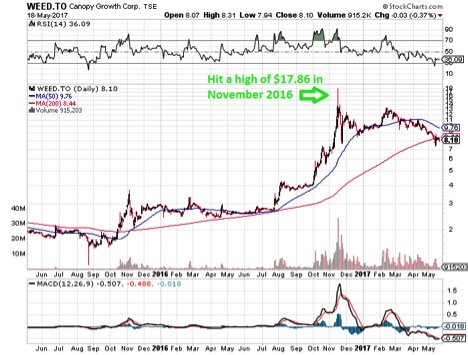 When considering an investment in any company, it's important to look at the management team. Who is leading the ship? Is this their first rodeo? Or have they already proven successful in bringing a company to market that has built shareholder value? Well, Chuck Rifici's track record with co-founding Tweed speaks for itself and gives Cannabis Wheaton shareholders confidence that they have a marijuana industry trailblazer leading their ship.
But Rifici's resume is filled with much more than just Tweed. In 2011, Rifici was appointed CFO of the Liberal Party of Canada by interim party leader Bob Rae. In 2014, Rifici was also named to the Top Forty under 40 by Ottawa Business Journal, named Alumnus of the Year by the University of Ottawa Faculty of Engineering, and received the Exceptional New Business Award by the Ottawa Chamber of Commerce.
Rifici also sat on the Board of marijuana starlets Supreme Pharmaceuticals (SPRWF) (SL.CN), Aurora Cannabis (ACBFF) (ACB.V), and CannaRoyalty (CNNRF) (CRZ.V). These board positions helped Rifici keep his ear to the ground, expand his network, and gain insight to the marijuana industry in both Canada and the U.S. He actually just resigned from his Supreme Pharma and Aurora Cannabis Board seats because of a slight conflict of interest but mostly to focus all of his time and energy towards building Cannabis Wheaton into a revolutionary cannabis company.
Cannabis Wheaton's Streaming Model—Revolutionizing Cannabis Investment
Cannabis Wheaton is the first company to bring a streaming business model to the marijuana industry. This unique model can greatly reduce risk for investors while maintaining tremendous upside potential from a booming industry. Streaming business models are normally found in the mining industry and refer to when a company strikes a deal with a miner to purchase all or part of its future metal production in exchange for upfront cash. Perhaps the most notable example is silver giant Silver Wheaton (NYSE: SLW). This works well because mining is a very cash intensive business and requires a lot of upfront capital. And the cannabis industry is about to undergo a massive expansion that will be an serious capital burden on current marijuana producers.
Rifici has said that the marijuana industry must increase total production by 10 times the current rate in order to keep pace with the increased demand for marijuana once the drug is legalized for recreational use. Producers are barely keeping up with cannabis demand from just medical marijuana users, never mind when legal recreational use goes into effect.
Currently, there is only 1.4 million square feet of licensed medical marijuana production facilities in Canada. According to Rifici, 14 million square feet is needed to satisfy the upcoming demand. Such a massive expansion is a major financial burden and carries great risk for companies trying to expand so much so quickly. And that is where the opportunity lies for Cannabis Wheaton.
"We're going to see tremendous growth in the industry…There have been a lot of announced expansions that fill maybe a third of that gap. But there's still 6 or 7 million square feet that needs to be built out," said the Rifici.
Under the streaming model, Cannabis Wheaton will provide marijuana producers with the necessary capital to expand their operations in exchange for a minority equity stake in the company and a portion of their future production at an agreed upon discounted price. The company will also provide their partners with guidance and expertise on facility construction, cultivation, and the licensing process. Rifici has brought to Wheaton several of the early key members of Tweed including the top cannabis legal team in Canada that has helped half a dozen Licensed Producers (LPs) obtain their licenses.
Cannabis Wheaton has already signed 16 streaming deals with 14 partners across 6 different provinces of Canada. Their partners' credentials include:
2 sales licenses.
3 cultivation licenses.
4 affirmation letters.
5 advanced pre-affirmation stage applicants.
Through these agreements, Cannabis Wheaton already has access to 1.3 million square feet of cultivation by 2019, 30,000 registered medical marijuana patients, and nearly 40 medical cannabis clinics.
One agreement we feel worth mentioning specifically is the company's deal with Broken Coast Cannabis Ltd., a British Columbia based medical cannabis producer that has established itself as a top provider of high grade cannabis products. Broken Coast's clean tech production methods and systems deliver consistent premium cannabis. The company was also recently awarded one of the few 18-month Access to Cannabis for Medical Purposes Regulation (ACMPR) licenses, which is a testament to its compliance record.
Broken Coast and its entities will utilize the experience and capital of Cannabis Wheaton to accelerate expansion and scale production in a short period of time. Under the terms of the agreement between the companies, Broken Coast will source a proposed site to complement their current site. The parties expect the new location to accommodate at least 100,000 square foot state-of-the-art cannabis cultivation facility.
Broken Coast will operate the new facility in accordance with its industry best practices and the two companies will share the proceeds with Cannabis Wheaton receiving 49% of the product output.
5 Reasons to Consider Cannabis Wheaton
Licensed Producer Diversification- Because the company is working with such a wide range of cannabis cultivation companies and receiving both an equity stake in those companies and a percentage of the end product, shareholder risk is spread out amongst several companies rather than just one.
Exposure to Tremendous Upside- Usually, reducing risk results in reduced potential reward, too. But not in this case. Even with the reduced risk, shareholders are exposed to the explosive industry expansion that Rifici explained as being a 10x expansion. Current cannabis revenue numbers in Canada will pale in comparison to what we see once legal recreational use goes in effect. Cannabis Wheaton will hold an equity stake in many producers as well as owning portions of the end product at a discounted price.
Geographic Diversification- Cannabis Wheaton has signed agreements with partners across 6 different provinces in Canada. This brings exposure to several different markets and acts almost as a loophole for the company to take advantage of a few question marks the industry has regarding distribution.
Proven Business Model- The streaming business model has already been proven successful for some of the largest metal miners in the world. Silver Wheaton, a streaming company with a market cap of approximately $10Billion, went to this model because they generally have a bullish outlook on the price of silver. So, it makes sense for them to fund a miner's drilling operations and expansion to purchase the future metal output at a steep discount. Similarly, Rifici and Cannabis Wheaton have a bullish outlook on the production rate and revenue numbers for marijuana in Canada expecting a 10x expansion of the industry. So, it makes sense to help fund the expansion in return for equity ownership and a portion of the end product.
Successful Management- The team behind Cannabis Wheaton has already taken the largest producer of government-sanctioned marijuana public. And it was and remains the most successful IPO in the cannabis space and true leader of the industry. 
Conclusion
Ever since Rifici co-founded Tweed and brought the cannabis juggernaut public in 2014, investors wondered what his next project would be. Rifici said he is proud of what he built with Tweed but was ready to put the past behind him.
"I'm essentially moving on to what I think are far better opportunities in the space," said the Cannabis Wheaton CEO.
It's hard to imagine what opportunities could be more successful than a $1Billion market cap, top marijuana producing, cannabis leader that gained 550% from its IPO. But if anyone knows an opportunity in the marijuana space when they see one it's Chuck Rifici.
Licensed Producers are already having trouble keeping up with demand from about only 130,000 registered medical marijuana patients. When legal recreational use goes into effect, demand is going to skyrocket. The current 1.4 million square feet of cultivation facility space simply isn't going to cut it. Not even close. The entire industry is racing to undergo a massive expansion that will see cultivation space increase by about 10 times. That type of expansion is extremely costly and carries great risk for individual producers.
However, with their streaming business model, Cannabis Wheaton is de-risking the expansion while still giving investors exposure to the booming industry growth. With 16 agreements already inked with 14 different partners across 6 different provinces, Cannabis Wheaton could very well be revolutionizing the way investors capitalize on the cannabis industry.
---
Disclaimer: Pursuant to an agreement between MAPH and Cannabis Wheaton (KWFLF) we were hired for 30 Days to publicly disseminate information about (KWFLF) including on the Website and other media including Facebook and Twitter. We are being paid $150,000 (CASH) for and were paid "0" shares of restricted common shares of Cannabis Wheaton. We may buy or sell additional shares of (KWFLF) in the open market at any time, including before, during or after the Website and Information, provide public dissemination of favorable Information.
---
MAPH Enterprises, LLC | (305) 414-0128 | 1501 Venera Ave, Coral Gables, FL 33146 | new@marijuanastocks.com