Since 2014 MarijuanaStocks.com has been the go-to destination for all things pot stocks. Whether you're looking for the latest pot stock news or the best cannabis stocks to buy or top articles and trends within the cannabis sector MarijuanaStocks.com has provided the goods.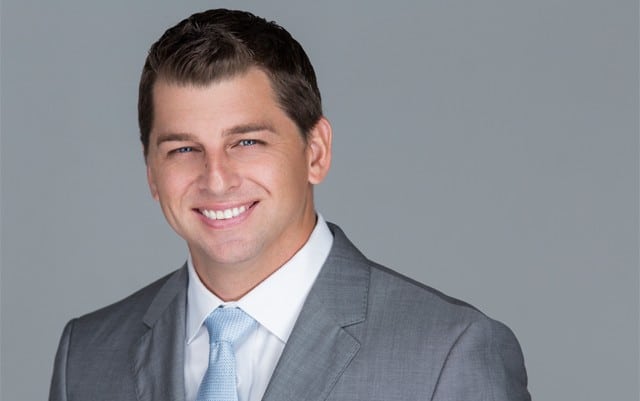 MarijuanaStocks.com is home to the most influential voice within the marijuana space, none other than Jason Spatafora aka "The Wolf of Weed Street." Jason began as an amateur marijuana stock investor & commentator before there were barely any publicly traded marijuana companies. Now, with over 200 marijuana stocks & some 6 years later he has become the go-to source for marijuana stock investors & a trusted source for journalists covering the cannabis industry. "The Wolf of Weed Street" has been featured in: The Street, MarketWatch, Investopedia, High Times, Forbes, Men's Journal, Penthouse (fully clothed), Vice and many more top publications, actively covering the cannabis sector & pot stocks.
MarijuanaStocks.com generates revenue via advertising & marketing publicly traded cannabis companies and there are several ways this happens:
On-Site Banner Ads that link to a sponsored post and or our dynamic stock profile pages.
Sponsored Content i.e. an Advertorial that we drive traffic to via email, text, social media, push notifications as well as paid display, search & programmatic native ad campaigns.
Connect the Dots (CTD). A CTD campaign consists of several articles and a full-fledged marketing/advertising campaign for a publicly-traded cannabis company. This campaign is not something ANY company can purchase. We at MarijauanStocks.com must truly believe the company presents a real upside advantage for our audience. For this reason, there have only ever been 9 Connect the Dots campaigns within the past 5 years.
A History of our Connect the Dots Campaigns:
CGRW (BZCN) Intro Date: Oct 22, 2014
Open Price: $0.051
High Date: Jan 27, 2015
High Price: $1.05
1,959%% Gain Open to High
NOTES: After moving sideways for most of 2015, it ran to an all-time high in 2016 of $3.45 on Oct 18, 2016, which ultimately saw a 2-year run of 6,665%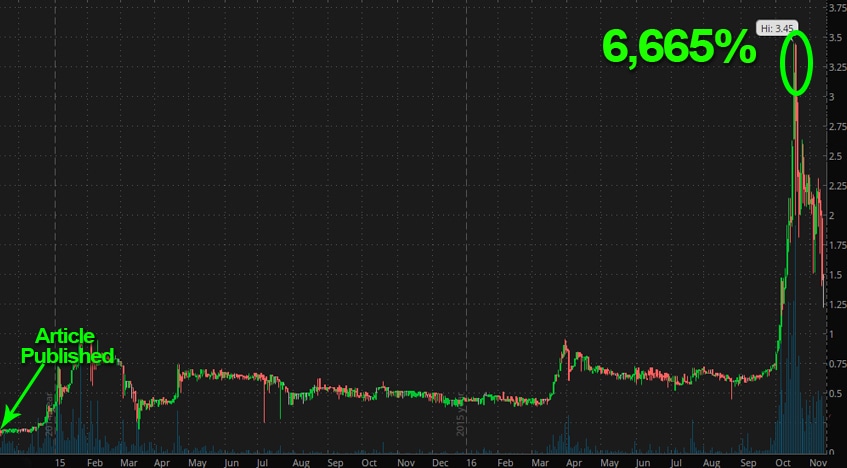 ————————————
RMHB (THCZ) Intro Date: Dec 18, 2014
Open Price: $0.23
High Date: April 1, 2015
High Price: $6.40
2,683% Gain Open to High
NOTES: These prices reflect historic prices after the company did reverse splits over the years.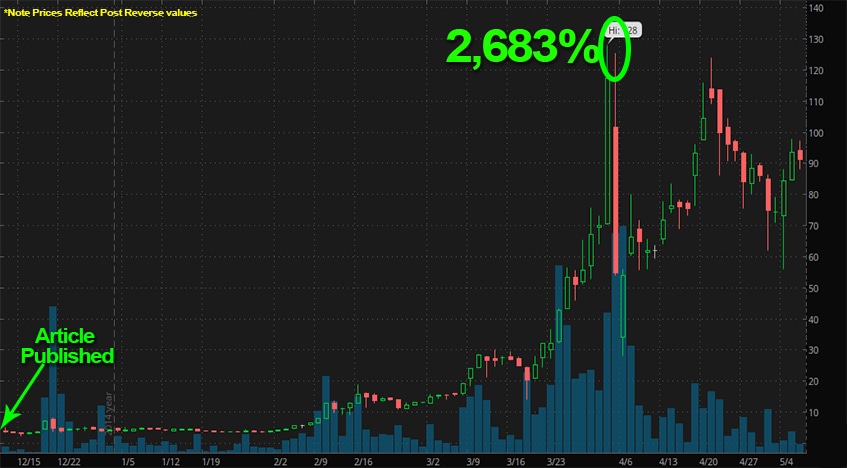 ————————————
GTBP (OXIS) Intro Date: Jan 12, 2015
Open Price: $7
High Date: March 31, 2015
High Price: $17.50
150% Gain Open To High
NOTES: Prices reflective of reverse splits done over the years. It has also been covered several times since then and has seen intermittent rallies of 100%+ on multiple occasions.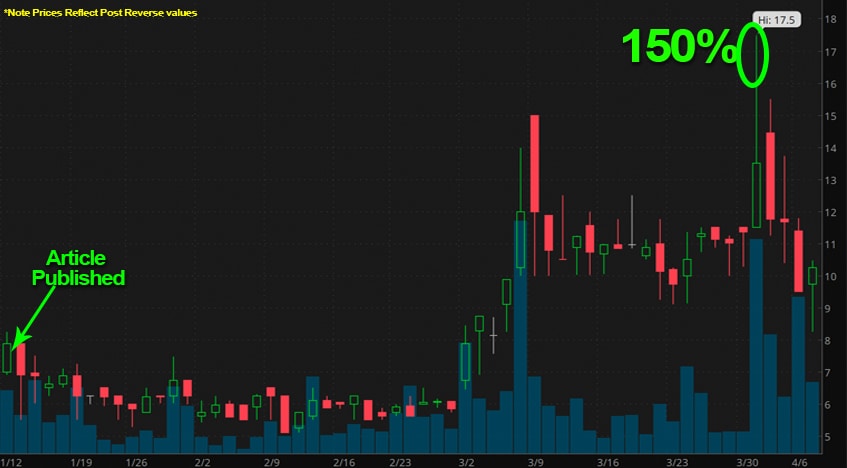 ————————————
FFRMF Intro Date: Oct 4, 2016
Open Price: $0.137
High Date: Feb 22, 2017
High Price: $0.5412
295% Gain Open to High during the initial period we introduced the company
NOTES: After pulling back in 2017, it ran to all-time highs on Dec 28, 2017, of $1.6598, which ultimately saw a run of 1,112%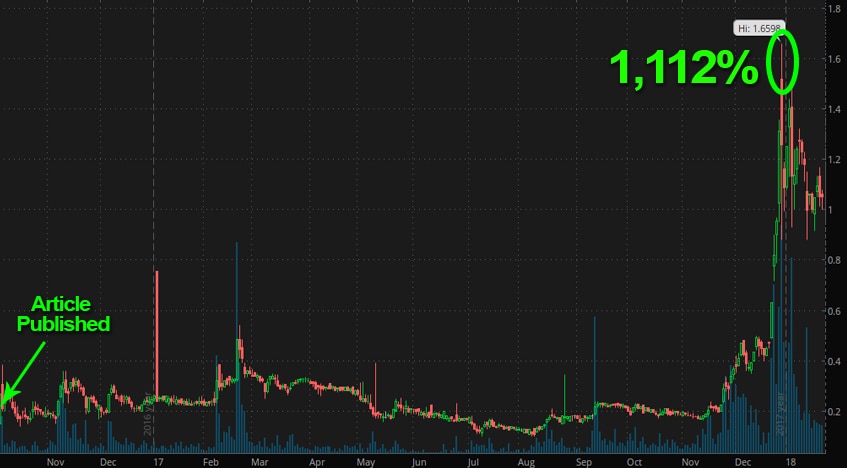 ————————————
CBWTF (AKA Auxly Cannabis but was Cannabis Wheaton originally) Intro Date: May 23, 2017
Open Price: $1.55
Was immediately slammed to lows of $0.52 during the month to follow… a loss of 66%
Ultimately ended up recovering at the end of 2017 and hit all-time highs of $2.70
High Date: Jan 17, 2018
High Price: $2.70
74% Gain Open To High over that full years' time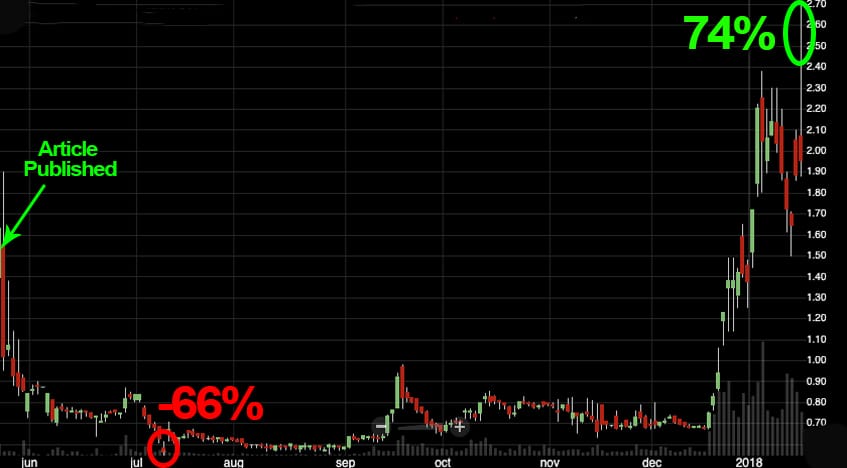 ————————————
ICNAF (CRPGF) 1 Intro Date: Aug 23, 2017
Open Price: $0.5582
High Date: Sept 8, 2017
High Price: $1
79% Gain Open to High during the initial period we introduced the company.
NOTES: After pulling back in 2017 and recapping on it again in October it ran to all-time highs on Nov 9, 2017, of $1.98, which ultimately saw a run of 254%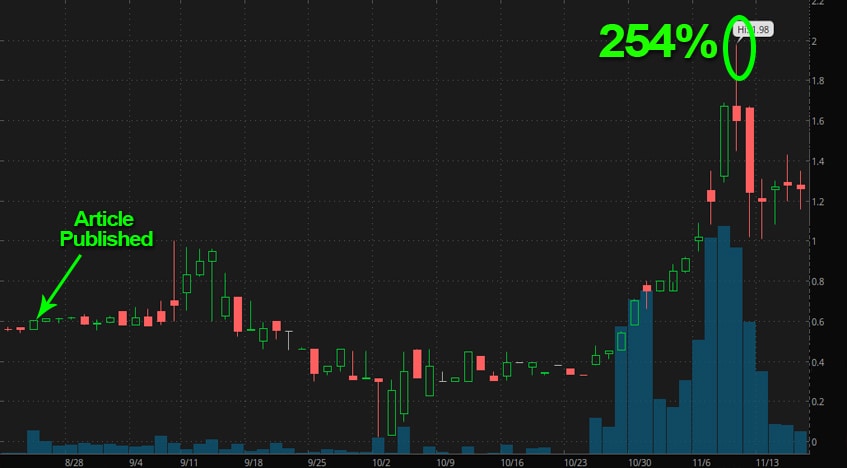 ————————————
ICNAF 2 Intro Date: Sept 12, 2018
Open Price: $0.5914
High Date: Oct 16, 2018
High Price: $1.58
167% Gain Open to High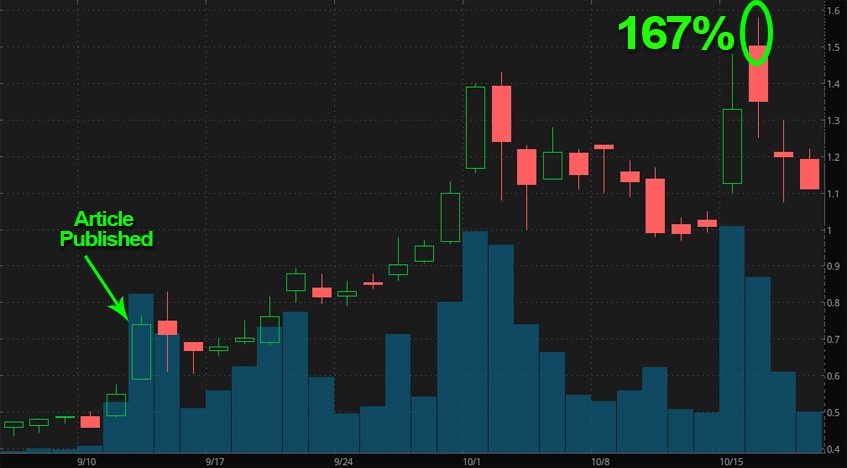 ————————————
PHGRF Intro Date: Dec 10, 2018
Open Price: $0.6235
High Date: Dec 13, 2018
High Price: $0.77
23.5% Gain Open to High
NOTES: Pulled back to $0.5587 on Dec 24, 2018, and bounced back to highs of $0.777 On Feb 27, 2019, for another move of 39%.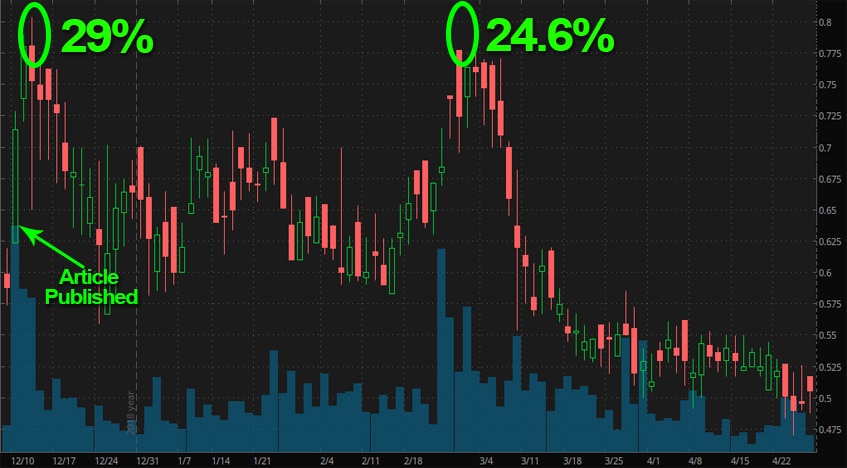 ———————
NOT BAD RIGHT?! TALK ABOUT A SOLID TRACK RECORD!
Now let's address the RED Elephant in the room…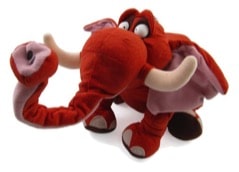 Unfortunately, our track record is not perfect. In April 2019 we began to cover a company via a Connect the Dots Campaign that turned out to be a MASSIVE disappointment. We are talking about Nabis Holdings Inc.
We want to assure YOU ALL that we did all the usual due diligence we usually do for a company that does a CTD campaign with us and even met with management in person twice. Everything we were showed and told sounded and looked great…
Immediately following the start of our CTD campaign what appeared to be countless egregious shareholders began to sell their positions with no regard for anything or anyone.
Nabis Holdings Inc. Intro Date: Apr 11, 2019
Open Price: $0.5995
High Date: Apr 12, 2018
High Price: $0.634
6% Gain Open to High
NOTES: It has fallen to recent levels of 0.13…. A decline of 78%, open to recent closing prices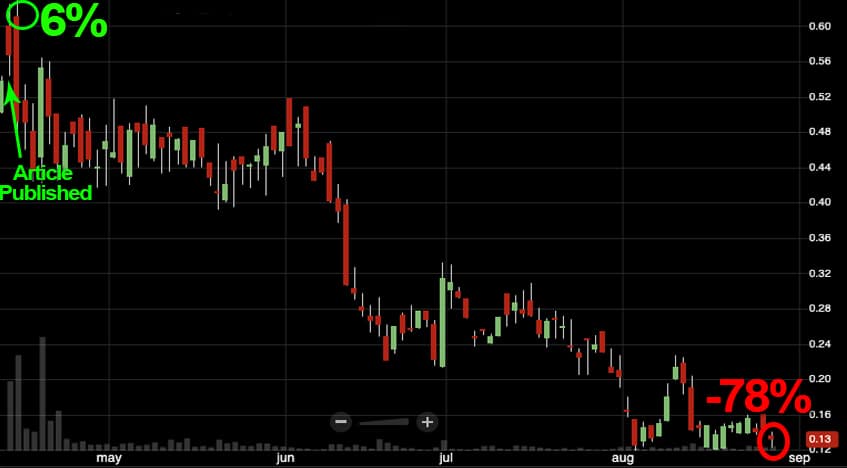 There is no pleasure or benefit in our audience getting into a losing trade especially on a company we vouched for via a disclosed CTD campaign.
The months following that CTD campaign we regrouped and mapped out ways and means to further mitigate & prevent this from happening again. It's important to convey that no method we employ will ever be 100% foolproof however that won't stop us from constantly trying to improve for our audience.
What Now? We Move forward…
We move forward… We've had 8 fantastic Connect the Dots Campaigns within 5 years, as far as stats go that's amazing and down-right unheard of & the next CTD campaign we do we will do everything in our power to ensure it lives up to the very high standard YOU ALL have come to and should expect from MarijuanaStocks.com.
The best way to earn trust is track record, disclosure, and transparency! We want to double down on our efforts. Below you will read, in detail, what we do and how we do it as well as what we are compensated and even how that money is spent!
As stated, in order to continue to gain trust and move forward there must be a greater level of transparency and a commitment to PROVIDING THE VERY BEST Marijuana Stock Opportunities via our Connect the Dots Campaigns.
***
MAKE NO MISTAKE ABOUT IT, OUR NEXT CONNECT THE DOTS CAMPAIGN WILL SET US ON THE RIGHT TRACK IN A BIG WAY!
***
MarijuanaStocks.com Deep Dive!
A typical marketing campaign at MarijuanaStocks.com can cost between $25,000.00USD to $500,000.00 per month. Over the years we have been publicly criticized by other so-called "professionals" in the marijuana space for our high costs.
Why do we charge so much? It's SIMPLE!
Except for our On-Site Banner Ad campaigns which are typically within the $25,000.00USD to $35,000.00USD per month range, advertising on MAJOR News & Finance websites costs money… a lot of money.
As an example, when MarijuanaStocks.com gets paid $250,000.00 for a month of marketing & advertising we create sponsored content that ALL client companies MUST sign off on. This means the client company must send us an email stating the sponsored content we have prepared is accurate, truthful, not exaggerated & not misleading.
Once the client company signs off on their sponsored content, we then seek out major news & finance websites to advertise on such as, MarketWatch.com, Yahoo Finance, Forbes.com, MSN Money, CNN, Barrons, NASDAQ.com and more. In order to advertise on these websites, it costs a lot of money. We refer to these sites and sites like these as "Tier 1 Sites" or (T1). These T1 sites cost an average of roughly $2.50USD – $10.00USD per click depending on the many factors.
If MarijuanaStocks.com is running a campaign and wants to drive 4,000 unique clicks to a piece of sponsored content per day from a T1 site and the avg cost per click is $5.50USD the total cost is for the traffic each day would be right around $22,000.00USD.
This Sounds Like A Lot Yes? WRONG!
According to AdBeat.com, The Motley Fool has spent an estimated $1,600,000.00USD on advertising for themselves, their clients and subscription-based model within a recent 30-day period!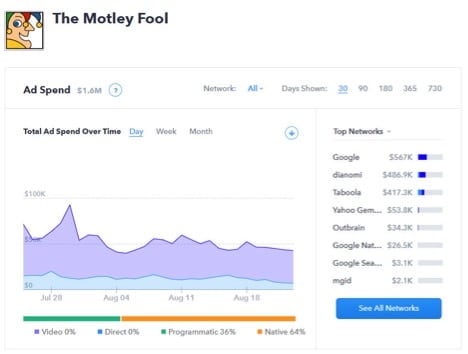 For comparison sake, most major online news and finance websites charge their advertisers high 5 to high 6 figures per month in advertising & marketing & we are NO DIFFERENT.
The MarijuanaStocks.com business model and campaign pricing structure is, cheaper than most T1 news and finance sites.
Where most people get us confused is that most companies that market and advertise public companies, especially penny stocks and even more so marijuana penny stocks, are typically "1-day email lists" and/or other short term (and often questionable) marketing practices. In an industry that has a less than stellar reputation, we pride ourselves on being EXTREMELY TRANSPARENT and COMPLIANT.
MarijuanaStocks.com has what many experts have called the best & most honest and thorough disclaimer on any competing website (see for yourself here).
Why Share All This?
In order to move forward, transparency, disclosure & track record is key and as the Cannabis Sector evolves, we will too. We want to make sure as we grow and expand you have a solid understanding of who we are and what we do so we can all grow together. YOU (our audience) have supported us since day 1 and as a result, have allowed us to grow as a website and business. We have a lot of new things planned for the rest of 2019 and beyond. Stay Tuned!
---
---
MAPH Enterprises, LLC | (305) 414-0128 | 1501 Venera Ave, Coral Gables, FL 33146 | new@marijuanastocks.com