The votes are in and the 3 biggest states out of the 9 with initiatives for Medical marijuana and recreational marijuana have passed. California passed recreational marijuana, Nevada passed recreational marijuana and Florida passed medical marijuana. As I write this it seems that Donald Trump will be our next President and global markets are hitting the panic button, it seems that Gary Johnson is responsible for this, but we already wrote that story in June. Silver lining here is that Marijuana Stocks are event driven equities and the passage of laws for these three states is a major catalyst for an industry that has historically been recession proof.
Here are a few of the companies that stand to benefit from legalization by state
Florida: AGSTF (TSX:AGS)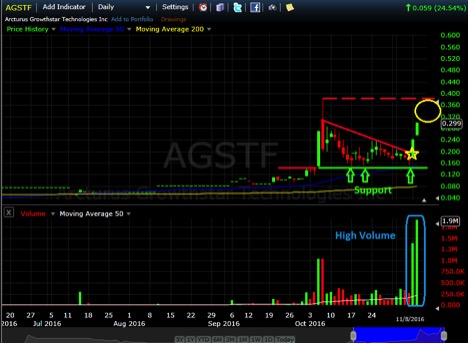 Arcturus GrowthStar Technologies just entered into an LOI to purchase a farm that is in a designation zone for cultivating cannabis. The company was pretty wise in this potential acquisition because the farm already produces $2.6m in annual revenue and if Florida's amendment 2 didn't pass their ability to quadruple yields with their controlled environment Agritech (CEA) would have still been a huge win for the company. Now that Florida has passed medical marijuana the potential for revenues is still rather large. It's also important to note that there are currently 6 licensed producers by region in the state that will need to be expanded to meet what will likely be massive demand. Factor in that AGS hired the former VP of operations of Tilray which is Canada's biggest private licensed producer and it stands to reason that their is an unknown strategy at play here. Canadian companies can touch the plant state side and still be public, unlike many of the US based public companies, but do not forget tAGS also has an urban farm in Rhode Island currently being built out.
On the chart AGSTF previously had resistance around $0.145 that was broken to the upside on heavy volume on October 5th. The stock went on to hit $0.384 on October 6th just days after we published a Connect the Dots piece on the company. Over the past month, we have been introducing our readers to this company as we believe they could play a major role in the overall marijuana industry's expansion. The $0.145 area that was once resistance, is now acting as major support. AGSTF tested this level three times over the past month and held beautifully.
A descending triangle or wedge formed throughout October that was broken to the upside on massive volume on November 7th and experienced strong follow through on the 8th. If momentum is sustained it won't be long until we see AGTSF test the previous high of $0.384. And a favorable marijuana ballot vote in the state of Florida could catapult AGSTF to brand new highs.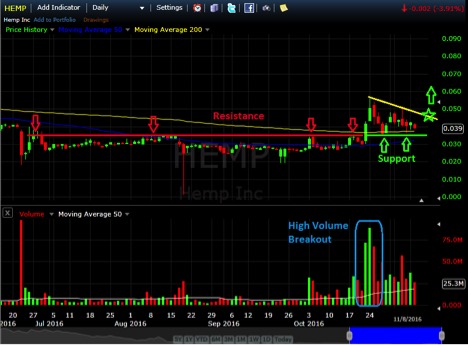 HEMP is yet to really participate in the marijuana industry rally. But there are some key technical indicators to watch for a trade to trigger. Also their facility to process industrial hemp is about to be turned on. It has been a long road for Hemp inc, but they currently have millions of pounds of industrial hemp ready to process and turn into LCM's. LCM's are basically filler for oil wells that are being drilled and they are low impact on the environment, effective and cheap; they also go for about $2 a pound. It stands to reason that the shift in cannabis will make growing hemp US wide a no brainer. Hemp also has one of the only processing units in the country. As for the chart…
The $0.036 area has been solid resistance for several months until broken to the upside on heavy volume on October 21st. That $0.036 area is now acting as support being tested twice already. We also see a descending triangle/wedge pattern now forming. If the support area continues to hold, a break out of this descending triangle pattern on high volume could ignite a move back to retest the $0.055-$0.06 area.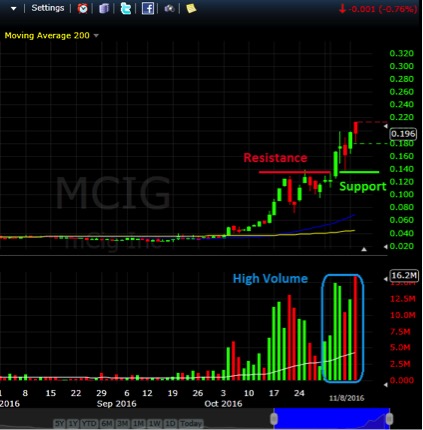 Nevada: MCIG
MCIG is one of the most well known companies in the Pot Stock space and they are also one of the few companies that has taken on any type of toxic financing to fund the operation. They have bolstered their revenues in the ecig/vape market, graduated to selling top notch CBD products in the US and international markets and created a division geared towards construction for cultivation operations called Scalable Solutions. Nevada just passed recreational in an already red hot medical marijuana market. We are about to see an explosion of new money come into the state in order to support the license holders or current license holders will ramp up production that will likely be at a deficit. Supply and demand issues will be an absolute windfall for MCIG and this decision. Its actually quite exciting when you consider there is absolutely nothing in MCIG's way in terms of debt and legacy shareholders. Factor in that they have roughly 70,000,000 shares of VTCQ stock which is trading at .01 and it stands to reason they will be able to self fund any expansion they may need to meet what will surely be growing demand. On the Chart…
MCIG continues to trade in a strong uptrend on very high volume. After breaking through resistance around $0.135 on November 2nd, we saw that same $0.135 area hold as support on November 4th. Volume has remained high throughout the breakout as MCIG briefly made new highs on November 8th but failed to hold a green close finishing the day -0.75%. $0.18 is now a new minor support level heading into a critical marijuana ballot in the state of Nevada. A favorable vote in Nevada would do wonders for MCIG and their operations. And with no debt conversions or dilution on their books, there shouldn't be much to hold MCIG back from making a push to the $0.30 area or higher should we see a favorable marijuana vote in Nevada.
California: MSRT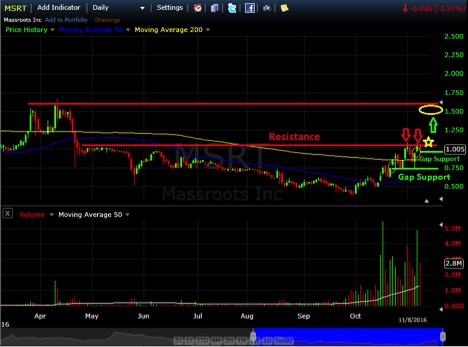 The easiest way to explain this is that the vote for recreational marijuana just passed in the biggest state and now this market completely opens up to the company as growing demand for advertising will be needed for the flood of new companies, products and native consumers. On the Chart…
MSRT has a resistance area in place along with a double top at $1.08. MSRT has two support areas in place from gap ups that need to hold in order for us to break through the double top. These levels are $0.97 and $0.75. A break above $1.08 on high volume could take us to the $1.50 area possibly testing previous highs from April of this year.
---
MAPH Enterprises, LLC | (305) 414-0128 | 1501 Venera Ave, Coral Gables, FL 33146 | new@marijuanastocks.com