Last month, on October 3, 2016, we published an article titled Past, Present, & Future of Canadian Marijuana Stocks where we expressed our bullish sentiment on the Canadian marijuana sector and identified a list of stocks to consider. In the article, we named 6 companies to focus on. Within one month of publishing the article, those 6 stocks have seen combined 480% in total gains as of November 2nd, 2016. This article would have been out a week ago if our new intern knew how to hit the publish button correctly. Regardless, the gains and the charts do not lie as they tell the tale of the ticker tape.
The Canadian government is planning to legalize cannabis in spring 2017 and the number of Canadian medical marijuana patients is expected to more than double. This will tilt the supply and demand scale for medical marijuana largely in favor of demand. We do not believe this recent rally to be just a pre-election "hype rally." This is the coming out party for an industry with an immensely bright future and staying power.
Licensed medical cannabis producers have raised more than $100 million in the past couple months to be used to support growth initiatives like mergers and acquisitions and facility expansions to better meet the increased demand. The investment opportunities in the legal cannabis industry have proven extremely lucrative to informed investors. Let's take a look at the 6 companies we highlighted in our October 3rd article to see how they are doing today and where they could go from here.
1. Canopy Growth Corporation (CGC.TO)(TWMJF)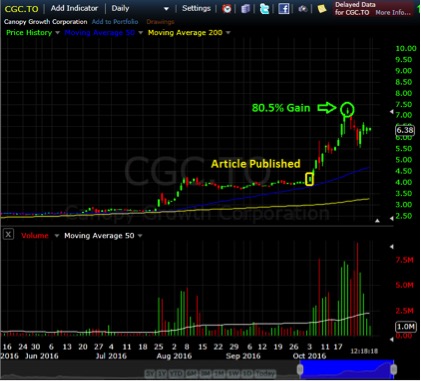 Canopy Growth is the largest legal medical marijuana producer in Canada and has been one of the most attractive investment opportunities in the cannabis sector since going public in 2014. CGC.TO hit a high of $7.35 on October 20th for an 80.5% gain from our initial article publication. The stock closed trading today at $6.55, still up 61%. TWMJF (the US OTC listing) still sits up 58% today.
Canopy Growth is the medical marijuana industry leader. Aside from individual news announcements, expect other marijuana companies to follow the strength and/or weakness of CGC.TO. After a healthy pull-in, the stock held support around $5.50 and remains in a strong uptrend.
2. Aurora Cannabis (ACB.CN)(ACBFF)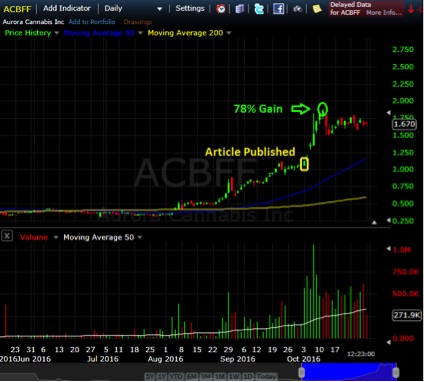 Aurora Cannabis is one of the fastest growing licensed medical cannabis producers in Canada. One thing to know about them is that they recently did a private placement for $20,000,000 and ended up being over-subscribed by a few million dollars. They have one of the industry's more impressive facilities and is partly why we added Aurora to our Focus List in June 2016. Since July of 2016, ACBFF is up roughly 125%. And since our article publication on October 3rd, ACBFF gained as much as 78% and closed trading today around $1.66, still up nearly 57%.
ACBFF is forming a bullish pennant pattern that would trigger a long through the $1.77 area or a sell below the $1.50 area. A breakdown of the pattern could see ACBFF test the gap it put in place on October 5th. However, a healthy consolidation in this range would give the moving averages time to catch up while the stock takes a breather before a possible move higher into $2.00 land.
3. Aphria Inc. (APH.V)(APHQF)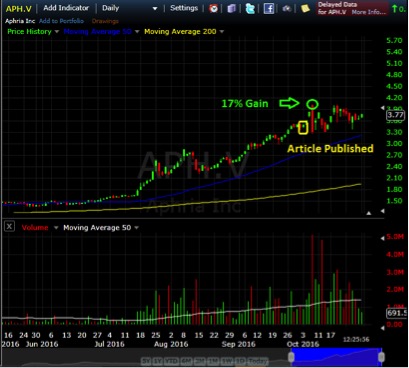 Aphria showed the smallest gain potential of all the companies listed in our October 3rd article. A max 17% gain was possible while APH closed trading today at $3.80, still up 10%.
APH.V has put in a double top at $4.00 that would act as a trigger long if broken to the upside. Support is in place around $3.30 after being tested multiple times and holding over the past month. A break below this support could see Aphria test its next support area around $3.00.
4. OrganiGram Holdings (OGI.V)(OGRMF)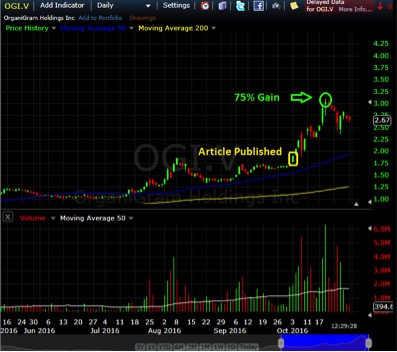 Organigram is the second largest licensed producer in Canada and was the first to report positive cash flow. Organigram could be considered the second industry leader behind Canopy Growth so it is no surprise to see the two share very similar chart patterns. OGI.V hit a high of $3.11 on October 19th for a 75% gain from our article publication and closed trading today at $2.76, still up 55%.
Like CGC.TO, Organigram remains in an uptrend. Support was put in around the $2.30 area after a healthy pull-in. Look for OGI.V and CGC.TO to show strength and weakness together. It would be rare for one to show strength while the other weakness (unless for an individual press release good or bad).
5. Arcturus Growthstar Technologies (AGS.CN)(AGSTF)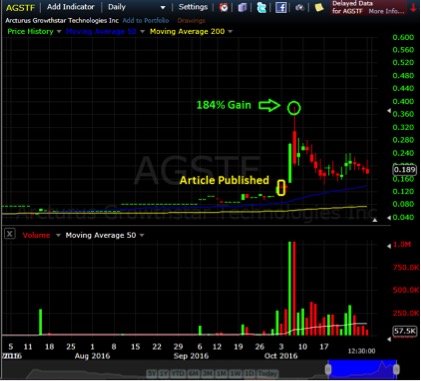 Arcturus Growthstar Technologies is a company that may play a huge part in the expansion of the Canadian cannabis market and its ability to meet the increased demand. Their Controlled Environment Agriculture technology helps producers minimize land, water, and energy output while increasing crop turnover and capacity.
We also published a Connect the Dots piece on AGSTF on October 4th to introduce our readers to a new company that we believed was worth considering. The stock gained a remarkable 180% in just three days before pulling back in to still be up 34%. For those unfamiliar with Arcturus, we recommend going back and reading our Connect the Dots piece published on October 4th.
It's important to discuss why such a sharp pullback after the 180% run. And we believe there to be a couple reasons.
➢ The stock is a very new issue and, therefore, does not have as much of a trading history as some of the other companies on this list. The trading float is also much smaller than the Canadian companies that came public in 2014 or sooner. This can sometimes result in over exaggerated or over extended price movements in both directions because of lack of stock available in the open market.
➢ The Company had a million dollars of warrants exercise at $0.15 to raise additional capital to support their rapid growth and expansion. Although it brought cash to the company, it added pressure to the market that aided in the sharp pull-in. But with that exercise now behind them, Arcturus can focus on putting that money to work.
Don't forget, in October 2015, one year ago, Organigram traded for less than $0.30 a share, too. Fast forward to October 2016 and the stock now trades for $2.75 a share. Good management can build shareholder value pretty quickly when appropriating funds correctly and progressing through their business plan. And the management team behind Arcturus is one of the main reasons why we decided to issue a Connect the Dots piece on the company.
6. Cronos Group (formerly PharmaCan Capital Corp.) (MJN.V)(PRMCF)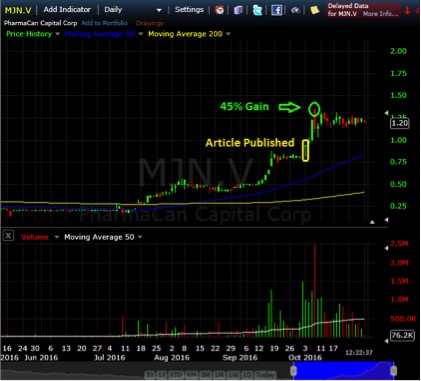 Cronos Group is an investment firm and holding company for Licensed Producers under Canada's Marihuana for Access to Cannabis for Medical Purposes Regulations ("ACMPR"). With interests in five licensed producers and three license applicants, Cronos Group is focused on building iconic brands providing patients with compassionate, personalized care. The stock hit a high of $1.35 on October 6th for a 45% gain from our article publication and currently still sits up 29%.
Similar to Aurora Cannabis, Cronos has developed a bullish pennant pattern. The $1.30 area would be a trigger long while the $1.13 area a trigger sell. A breakout could see MJN.V run to the $1.60 area while a breakdown would most likely retest the $1.00 mark, maybe lower.
Conclusion
The timing of our article titled Past, Present, & Future of Canadian Marijuana Stocks was spot on. We nailed breakout points in most of the major Canadian cannabis companies. After publication, the 6 stocks highlighted gained a combined total of 480% and each one remains higher today.
As we mentioned in the article, we believe the Canadian market to be much further along in development than the US market; although the US market is making major strides that we will discuss in a future article. The overall marijuana industry is experiencing a strong rally, both in the US and Canada. And we believe the companies discussed in this piece to have long-term investment potential, not just a quick trade.
---
MAPH Enterprises, LLC | (305) 414-0128 | 1501 Venera Ave, Coral Gables, FL 33146 | new@marijuanastocks.com