The recent trend across the cannabis sector has focused mainly on two things:
1. Marijuana Legalization
2. Canada's growing market
But we're all missing something right now that could result in a huge missed opportunity.
That "little thing" is the fact that there's an entire country to the south of Canada that includes a handful of states that dwarf the sales of the entire country of Canada.
The opportunity for marijuana stocks in the US is too big to ignore in our opinion. While the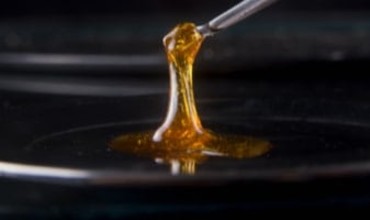 bigger funds and day traders target "the next big Canadian pot stock," the smart money bets may be on those companies "south of the border" and we don't mean Mexico. We're talking the land of the red, white and blue, the United States
The global legal marijuana market size was valued at USD 9.3 billion in 2016 and is expected to exhibit a CAGR of 34.6% during the forecast period. The market is expected to witness significant growth owing to legalization in several countries and high demand for both medical and recreational purposes.
Over the past few years, the number of companies operating in this market has grown by leaps and bounds. Producers are focused on expanding their customer base by offering a wide portfolio of products and through geographical expansion.
Products currently being offered include varieties of strains and extracts such as oils, tinctures, resins, and consumables based on the concentration of cannabinoids like THC and CBD.
CLS Holdings USA, Inc. (CLSH) Is Plotting A Course For Rapid Expansion Across The US
CLS Holdings (CLSH) is a diversified cannabis company operating as Cannabis Life Sciences and an integrated cannabis producer and retailer in Nevada through its Oasis Cannabis subsidiaries. The Company has taken aim at expanding its footprint beyond Nevada and is strategically positioning itself in some of the fastest growing US markets right now.
This could pose a very immediate and direct correlation to the anticipated industry growth and what may lie ahead for CLS Holdings (CLSH). The Company's business model includes licensing operations, processing operations, processing facilities, the sale of products, and brand creation.
A Focus On Nevada's Growing Pot Industry
According to the Nevada Department of Taxation, marijuana flower/bud accounted for roughly 50% of all combined medical and adult-use marijuana purchases by consumers in Nevada, followed by concentrates at about 25% and infused edibles at 13%.
Earlier this year, CLS Holdings (CLSH) closed on its acquisition of Oasis Cannabis. Oasis announced that packaged marijuana flower/bud and pre-rolled joints represented 67% of the total sales, followed by concentrates at 20% and infused edibles at 9%.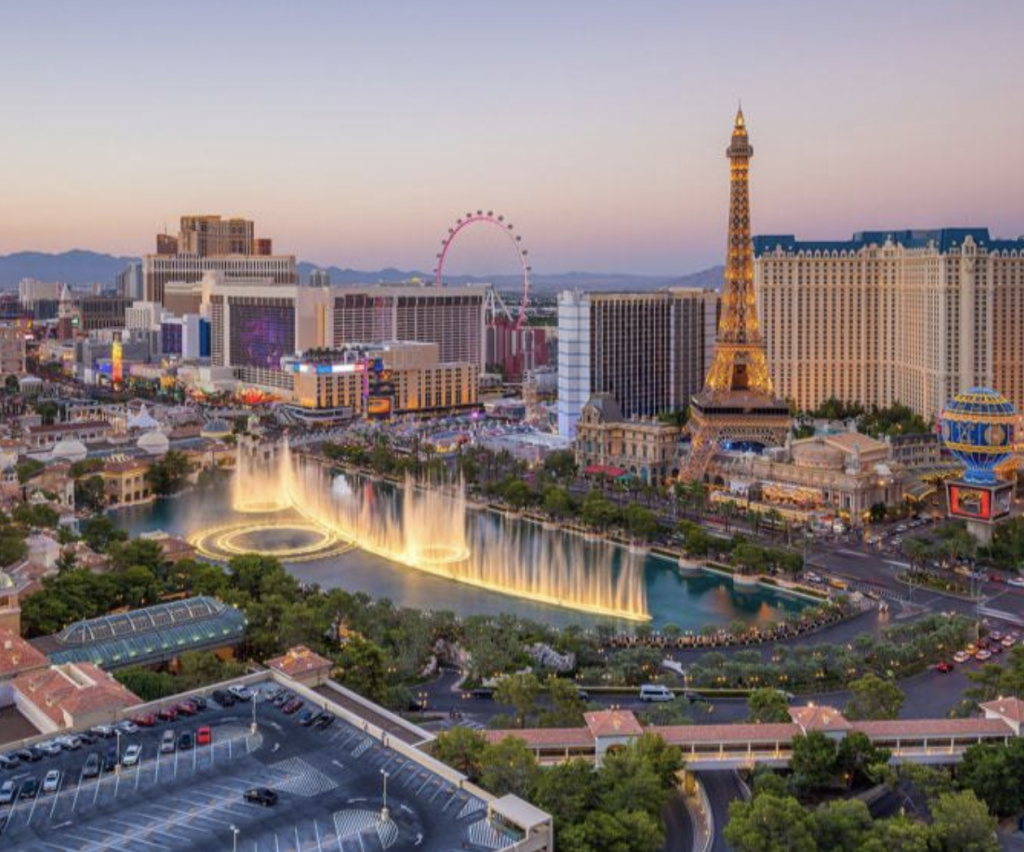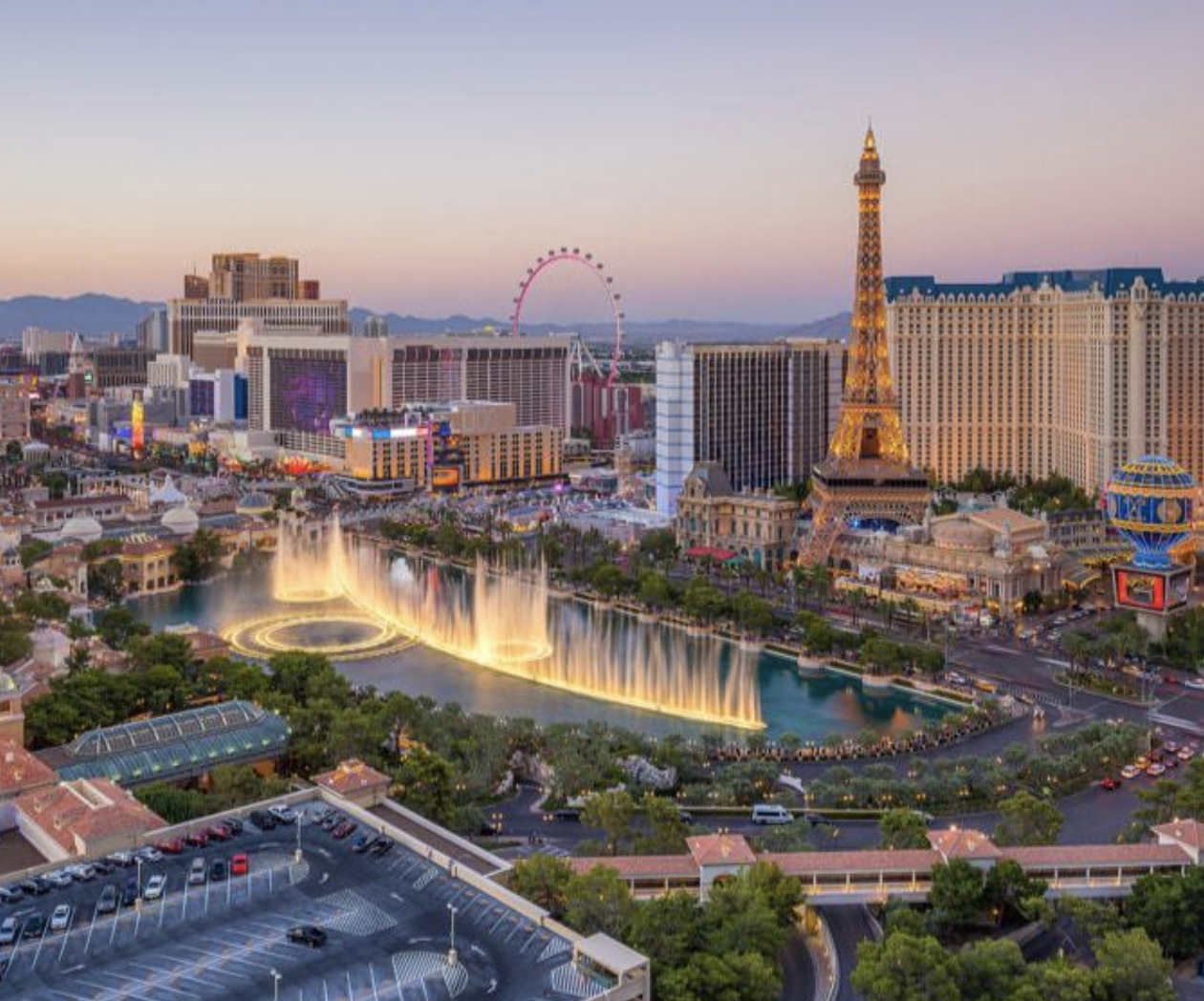 Oasis Cannabis served over 127,000 customers in its 1st year of adult-use sales. About 13% of those orders and 22% of total sales were to medical patients. The average order from a medical customer was $73 whereas a typical recreational customer spent $41 per order.
Furthermore, home deliveries made up 5 percent of the total orders and 11% of total revenue, reflecting a higher average order of $98 versus $42 from in-store customers. The average delivery order from a medical customer was $114 and the average delivery to a recreational customer totaled about $87.
Oasis's City Trees wholesale product line recently more than doubled its number of product SKUs offered to retail dispensary customers, and now covers a variety of concentrates, vape pens, and capsules, and tinctures including high CBD versions. The City Trees product line is now being sold in over 20 dispensaries in the Las Vegas and Reno markets.
CLS Holdings (CLSH) And A $27.9 Million Acquisition Opens BIG DOORS In Nevada
This growth could be at the very early stages. When it comes to Nevada, Las Vegas commands a huge tourist population. Oasis Cannabis has opened a key dispensary in downtown Las Vegas, easy access from Strip that provides direct access to Clark County's 45 million annual tourists. The storefront is large enough to accommodate approximately 800 customers…per day.
For CLS Holdings (CLSH), this acquisition of Oasis, valued at nearly $28 million, is much more than just obtaining access to a dispensary. Within the 22,000 square foot Oasis warehouse, 4,000 square feet is currently allocated to production efforts and 18,000 square feet is allocated toward cultivation efforts, which could allow CLS to grow more than 4,500 pounds of flower per year according to the company.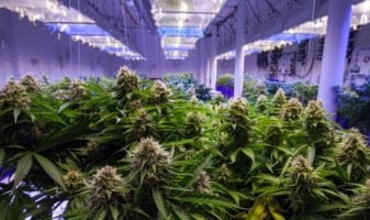 At CLS, its proprietary extraction and conversion method allows the company to manufacture a broad variety of products ranging from solid and oil concentrates to infused products and edible marijuana products. This technology is expected to reduce growing costs and provide double the amount of Delta-9 THC compared to our competitors.
It can also produce cleaner and safer products as a result of advanced testing. In fact, CLS Holdings (CLSH) has received a Notice of Allowance from the U.S. Patent Office for its proprietary extraction and conversion methodology.
The company has built a framework to become vertically integrated into its business model. From seed to sale and everything in between, with an initial focus on one of the most prolific tourist markets in the world that just so happens to have full legalization.
Recreational marijuana sales became legal in Nevada on July 1, 2017. In the year that's passed, cash has flowed, businesses have grown and no major controversies have surfaced. Nevada dispensaries sold nearly $425 million (1) worth of recreational marijuana and pulled in nearly $70 million in tax revenue in the state's first full year of sales.
Let's just look at the landscape. In 2014, Colorado was the hottest ticket in terms of legal recreational marijuana. The state sold a cool $700 million (2) of marijuana in 2014 with no competition besides what little medical cannabis sales there were in other states. Comparatively speaking, today there is much more competition yet Nevada could be presenting immense opportunity due to its built-in tourism business. CLS Holdings (CLSH) has a front row seat.
Expanding Beyond Its $425 million Market & Into One That Could Hit $1.8 BILLION!
CLS Holdings (CLSH) has gone far beyond focusing on a single locale and it's putting its money where its mouth is. Not only has the company raised tens of millions in operating capital over the last few months, but it has also begun to deploy that to the tune of multi-million dollar deals. This translates into CLS Holdings (CLSH) expanding its operating footprint across the US in some of the up and coming legal cannabis markets.
In the 4th quarter of 2018, the company has loaned $5 million to In Good Health, a licensed medical dispensary in Brockton, Massachusetts with a significant market share.
Massachusetts has a population of 6.9 million people as compared to 5.6 million people in Colorado. Massachusetts is also centrally located to the dense population of New England with a less than 100-mile drive from Rhode Island, Connecticut, New York, New Hampshire, and Vermont.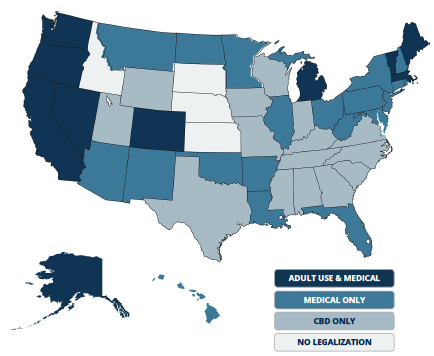 In 2017, Colorado generated $1.5 billion in legalized marijuana sales and had over 500 licensed dispensaries and over 700 licensed cultivation facilities. Massachusetts currently has issued only 39 licensees. After the first five days of adult-use cannabis sales in Massachusetts—between only two licensed dispensaries statewide—customers purchased more than $2.2 million worth of cannabis products, according to data released by the state's Cannabis Control Commission (3). Numbers like those follow early estimates that the Massachusetts adult-use cannabis market could hit $1.8 billion(4)!
In Good Health is located 25 miles south of downtown Boston. The Brockton dispensary was the second licensed dispensary in the state and has been operational since September 2015, which has been medical only up until this time. In Good Health is currently servicing 17,000 registered patients and delivering to 1,700 homes with key product offerings of flower, concentrates, vapes, edibles, pre-rolls, and tinctures.
CLS Holdings (CLSH) has also agreed in principle to form an 80/20 joint venture with CannAssist, which CLS will own 80%. CannAssist plans to build out a recreationally licensed cultivation grow facility in Leicester, Massachusetts. The planned Leicester 86,000 square foot facility is in possession of its host community agreement, is awaiting state acknowledgment of its pending recreational licenses and upon completion will be the third largest cultivation grow in the state.
The Leicester facility is anticipated to produce its first harvest in the fourth quarter of 2019 and be able to produce 28,000 lbs of flower along with 858,000 grams of extract once it is operating at capacity. At current pricing of $3,500 per pound of flower and $40 per gram of extract, total capacity is expected to reach $120 million in revenue. CLS Holdings (CLSH) anticipates generating substantial positive cash flow from the joint venture, which could directly translate to market potential for Wall Street!
The Road Ahead
CLS Holdings (CLSH) $5 million in cash, a growing footprint into high growth regions of the US, and building its model not on one single aspect but upon an entire vertical integration strategy to allow for full control of its revenue streams.
The company's management team has 120+ years of collective experience in capital markets; medical and real estate lends itself well to pursuing – and executing on – M&A transactions across the United States.
CLS Holdings (CLSH) is looking to acquire cannabis opportunities across the United States where medical and recreational marijuana businesses are prosperous with large potential growth and expansion. The investments in the Brockton and Leicester facilities will establish a presence on the east coast where CLS Holdings (CLSH) hopes to pursue additional opportunities that will enhance the current offering that it has in Nevada.
Following Canada's legalization, we're seeing even more interest build across the North American market. An increasing number of companies operating in the marijuana market is expected to bolster the quantity and variety of products reaching the end users. Recent, multi-billion dollar investments from the likes of Molson-Coors, Constellation Brands, and Altria have opened up Pandora's box to new opportunities…and with that, new attention from BIG MONEY.
Products like marijuana oil have started gaining traction over the past few years owing to increased effectiveness and safety as compared to smoking it. Also, the growing research in the cannabis industry has led to the introduction of new marijuana strains. These advances in new product development are expected to enhance product adoption among consumers. With the U.S. legal marijuana market expected to grow at a CAGR of 24.9% from 2017 to 2025 from its estimated 7.06 billion in 2016, the next opportunity for marijuana stocks could be right in our backyard.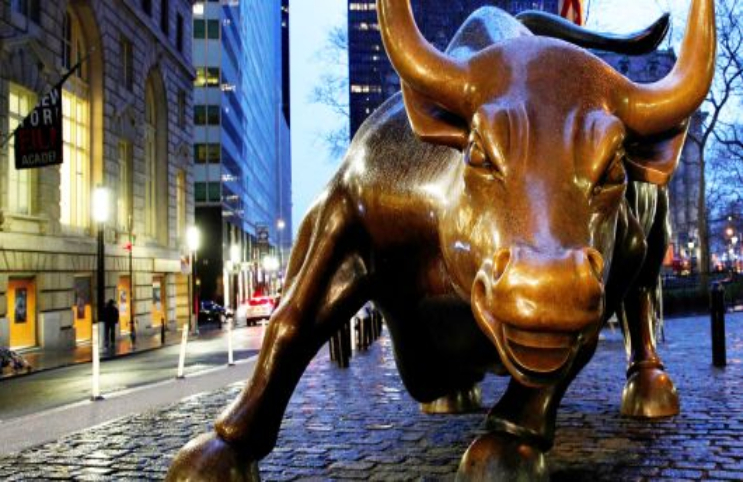 1. https://www.reviewjournal.com/news/pot-news/nevada-marijuana-sales-blow-away-projections-in-first-year/
2. https://www.thecannabist.co/2015/02/12/colorado-marijuana-sales-2014-700-million/27565/
3. https://mass-cannabis-control.com/wp-content/uploads/2018/11/Web_SalesData_11272018.pdf
4. https://www.dotnews.com/2018/cannabis-insiders-size-market-buildout-massachusetts
Disclaimer: Pursuant to an agreement between an affiliate of MAPH Enterprises, LLC (owners of MarijuanaStocks.com), Midam Ventures LLC and CLS Holdings USA Inc. (CLSH), Midam has been paid $100,000 from CLS Holdings USA Inc. (CLSH) for a period from November 30, 2018 to December 30, 2018. We may buy or sell additional shares of (CLSH) in the open market at any time, including before, during or after the Website and Information, to provide public dissemination of favorable Information about CLS Holdings USA Inc. (CLSH). Click here for full disclaimer.