The Pot Stock Run Has Just Begun in America
Written by: Hamzah Khan
After California, Nevada, Florida, Massachusetts, Maine, North Dakota and Arkansas just legalized recreational or medicinal cannabis, pot stocks are on a sector wide sale. It is petty obvious that the "sell on news" strategy has been employed. What's next? Does the run end here? Not really. As a matter of fact, it has just begun. They say a lot of lessons are to be learned from history. In the stock market, we're speaking of technical charts. The notion that previous price action indicates future price movement is undoubtedly true, more so than not. So let's go through a history lesson.
Here's where MCIG was then. Have a closer look at the price action from 2014:

Do you see that? After January 10th, we witnessed a similar drop that we're seeing today. A major sell-off on news before a historical run. If you compare the left segment of the chart to the right, it seems like we're forming a similar pattern.
TRTC indicates much of the same:

Even the infamous PHOT: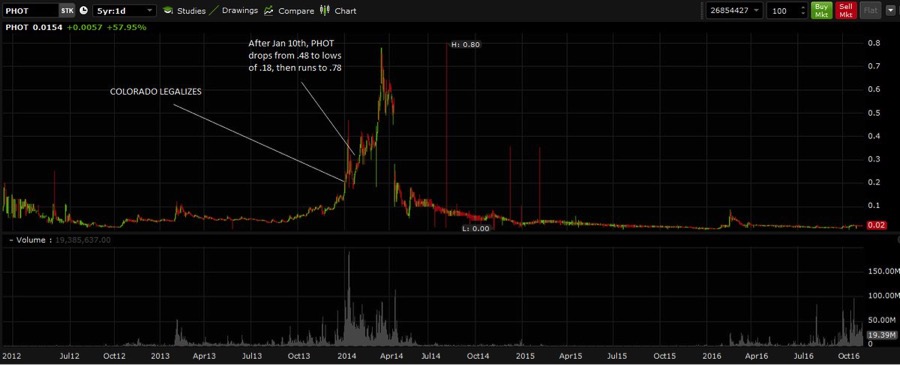 Market makers have a stronghold over OTC plays. To us, this seems like a combination of the following: classical shake of weak hands by MMs to give them an opportunity to increase their positions, natural profit taking and also some short interest, granted some of these plays were up huge. So, to the very important question: Is the run over? Technically, according to charts, it has only just started. Alright, how about the fundamentals? Fundamentally speaking, there are various factors we need to assess. Firstly, the entire West Coast has legalized cannabis, either medicinally or recreationally. California alone is five times the size of Colorado. Re-evaluations will be hitting billions of dollars now. I was asked whether the 2014 Colorado comparison is valid or not – since Colorado reforms were actually passed in 2012 and came into effect in 2014. It is pertinent to note here that prices will be factored into stock prices from now till then, and then some after. I say this so confidently for a reason.
For comparison purposes, the Canadian marijuana stocks highlight an important story. Sure, the legalization there is on a federal level, but that doesn't in any way discredit the massive market size of America just from the West coast alone. Even on a state-to-state level, the numbers will be big. Colorado indicates that to us. Ever since Trudeau took over office, volume picked up in companies, listed on the TSX, such as: Canopy Growth, Mettrum Health, Aphria, Aurora Cannabis and Organigram. Granted there was a consolidation phase, the run has been massive and these stocks continue to break out even today.
Uncertainty in the cannabis industry is also prevailing due to Donald J. Trump being elected as the 45th President of the United States. While Trump has had a flip-lfop position on the legalization of cannabis, he made it clear on an interview to Bill O'Rilley, earlier in the year, that he's in full support of medicinal cannabis. His position on adult recreational use of cannabis hasn't however been as lenient. The jury is still out on that one. With Chris Christie or Rudy Giuliani as the likely candidates to head the justice department, it only makes sense for you to be concerned. They have clearly opposed the adult use of recreational cannabis. All Trump has to do is withdraw the Cole Memorandum in order to implement federal drug laws at a state level, but he won't do that. In an interview to Washington Post last year, Trump stated, "In terms of marijuana and legalization, I think that should be a state issue, state-by-state. Marijuana is such a big thing. I think medical should happen – right? Don't we agree? I think so. And then I really believe we should leave it up to the states."
Editors Note: The Op-Ed is not a buy or sell recommendation from MarijuanaStocks.com, but rather an opinion on the historical data related to Marijuana Stocks and event driven equities within the market. We selected 3 stocks from 2014 for the author to analyze and give his unbiased opinion. He was not compensated in anyway by MarijuanaStocks.com
---
MAPH Enterprises, LLC | (305) 414-0128 | 1501 Venera Ave, Coral Gables, FL 33146 | new@marijuanastocks.com