MCIG Services Cannabis Grower Industry With MCIG CannaPods
BEVERLY HILLS, CA–(Marketwired – Sep 21, 2015) – mCig, Inc. (the "Company") (OTCQB: MCIG), a leading distributor of innovative products, technologies, and services for the global medical and legal recreational cannabis industry, releases the Powered by MCIG CannaPods 2.0 and 2.0 XL.
Only a few months after the completion of their Master Distributor Deal with CannaPods, MCIG furthers its commitment to the Cannabis growing space with a fully equipped, turnkey "drop and grow" solution starting at just $49,500. MCIG CannaPods can be delivered, ready to grow, in 4-6 weeks. The smallest MCIG CannaPod 2.0 can accommodate 80 plants and generate $100,000 in yearly yields while the fully stocked, two-tier 2.0XL can generate upwards of $400,000 yield based on an estimate of $2,200 per pound. MCIG will have CannaPods on display at industry conferences and various cities throughout 2015 and 2016. MCIG CannaPods are the highest quality and most complete solution in the market, even offering financing and consulting options.
MCIG continues its advantage as one of the premier names in the Cannabis Industry through smart partnering with top brands. The Powered by MCIG CannaPods are constructed using SIP panels, which create a hermetically sealed, mold-free, and sterile clean room environment that is highly insulated and ultra-energy efficient. The interiors are carefully designed and approved by the industry's leading growing consultants and feature components by top brand names in the business; Cooling by Samsung, Link 4 Environment Control, Black Dog Led lights, Titan Co2 Enrichment Kits, IC Real Time Security System by Security Grade, and much more. Growers can control the growing environment using an IOS or Android smart phone.
"One of the fastest growing segments in the Cannabis Industry is the need for full solution grow equipment, and CannaPods are an affordable and easily installed answer to those needs," said Paul Rosenberg. "As we were building relationships with growers of all sizes, we recognized that most medicinal and legal recreational states are allowing individual growers to remain players in the space. Partnering with CannaPods through a Master Distributor Agreement allows us to appeal to experienced growers as well as new players in the industry with the MCIG CannaPods 2.0 and 2.0 XL. MCIG also offers various equipment, consulting, and technology for growers to further enhance their investment."
The MCIG CannaPods 2.0 and 2.0 XL are available starting this week and have already gained traction with smaller, as well as, large growers. (www.MCIGCannaPods.com).
"Equally encouraging is the renewed interest and engagement from clients who expressed interest years ago and are now entering into engineering phases with hard deposits," adds Filene Lehman, President and CEO of Cannapods. "Everyone is now realizing that the only solution for beginning growers with large visions are modular systems, and by simply adding Pods, the cultivators can increase their facility size as their business expands. We are also proud to announce that in addition to our pre-engineered models and warehouse conversion kits, the Hybrid GreenHouse Black-out Roof is now available furthering our commitment to be on the cutting edge of technology."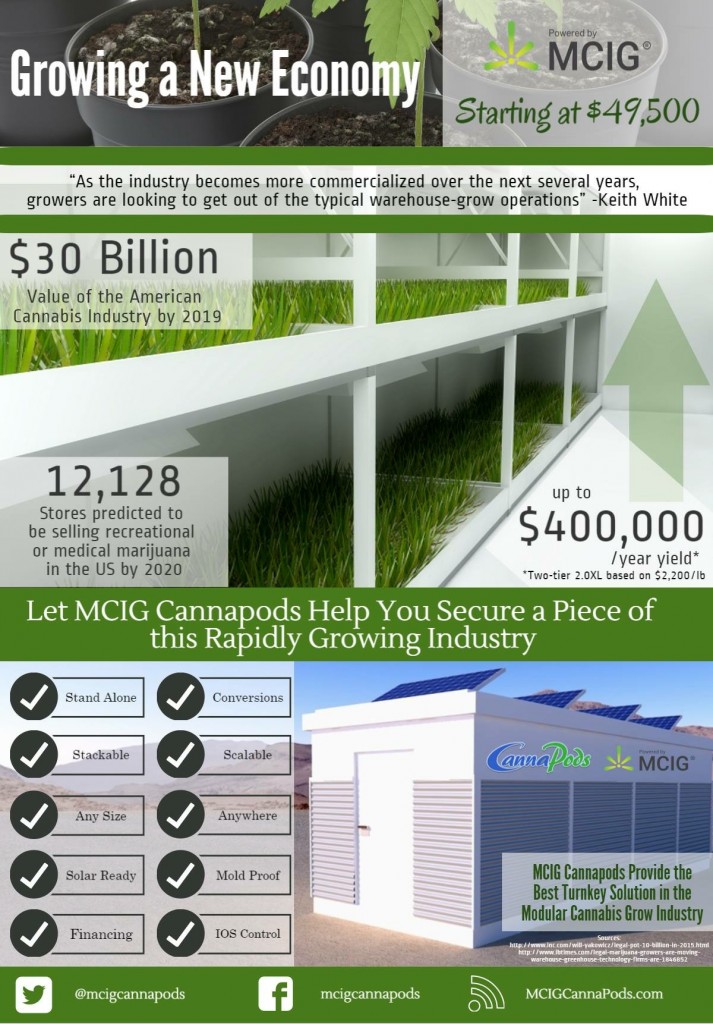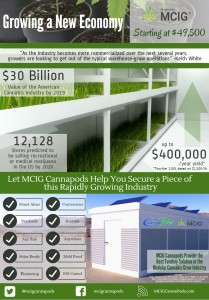 (click to enlarge)
For more information visit www.MCIGCannaPods.com
About mCig, Inc.
mCig, Inc. (OTCQB: MCIG) is committed to being the leading distributor of technology, products, and services for the global medical and legal recreational cannabis industry. The Company's Master Distributor sales approach allows MCIG to partner with or acquire best-of-breed companies to serve as exclusive sales representatives, distributing their products through MCIG's multiple channels and sub-distributors throughout the United States, Europe, United Kingdom, and Asia. MCIG focuses sales efforts on growers, consumers and dispensaries, and provides a complete line of products, technology, and services, including turnkey growing environments; security services; software and information technology; consulting services; financing and more. MCIG maintains its roots by offering top selling CBD Vape lines and CBD products. The company is headquartered in Beverly Hills, California. Follow MCIG on Twitter at @MCIGs.
About CannaPods.
CannaPods is a company dedicated to helping provide a higher industry standard in the Medical Marijuana arena. In mastering the proven technologies and success of large commercial grows for the past two years, CannaPods has launched its pre-engineered "standard" models, and can also be engineered to suit any custom build out. CannaPods also offers "critical climate" equipment, lighting and controls along with the hydroponic equipment.
CannaPods are trackable, compliant; iso clean room growing environments, able to be deployed via a flat pack, to be constructed on site, with no special equipment or tools, or be delivered assembled. Our off grid capabilities are state of the art, and our affordable equipment packages are engineered specifically for our models. CannaPods are structurally engineered for growers to have success with uniformity, standardization and medicinal quality without the use of pesticides or contamination from mold and mildew.
Safe Harbor Statement
Any statements contained in this press release that do not describe historical facts may constitute forward-looking statements as that term is defined in the Private Securities Litigation Reform Act of 1995. Any forward-looking statements contained herein are based on current expectations, but are subject to a number of risks and uncertainties. The factors that could cause actual future results to differ materially from current expectations include, but are not limited to, risks and uncertainties relating to the Company's ability to develop, market and sell products based on its technology; the expected benefits and efficacy of the Company's products and technology; the availability of substantial additional funding for the Company to continue its operations and to conduct research and development, and future product commercialization; and the Company's business, research, product development, regulatory approval, marketing and distribution plans and strategies.
Contact:
Paul Rosenberg
CEO
paul@mcig.org
---
MAPH Enterprises, LLC | (305) 414-0128 | 1501 Venera Ave, Coral Gables, FL 33146 | new@marijuanastocks.com