Our Marijuana Stocks Connect the Dots feature articles have never been short-term day trade ideas. The shortlist of companies that have made our feature article lists were never flash in the pan trade ideas. They were always meant to uncover and identify opportunities within the cannabis industry that we believed had real staying power. And this remains true to this day.
With that said, we need to address the elephant in the room. Our first Connect the Dots feature of 2019, Nabis Holdings (CSE: NAB) (OTC: NABIF) has gotten off to a miserable start. But our stance on the company is no different today than it was a week ago. Nothing has changed with this company fundamentally. We believe that a lot of the current action could be related to the market timing of the overall cannabis industry.
You Are Not Alone
They say timing is everything. Ask any comedian, chef, or stock trader and they'll tell you the importance of timing. As you already know, the stock market is volatile. But the cannabis industry specifically can, at times, carry above-average volatility. The downward pressure recently seen in Nabis Holdings (CSE: NAB) (OTC: NABIF) is not an isolated incident. No. In fact, the entire marijuana sector has sold off in recent days.
Tilray Inc. (TLRY) -33%

Cronos Group Inc. (CRON) -28%
Pyxus International Inc. (PYX) -42%

Village Farms International Inc. (VFF) -38%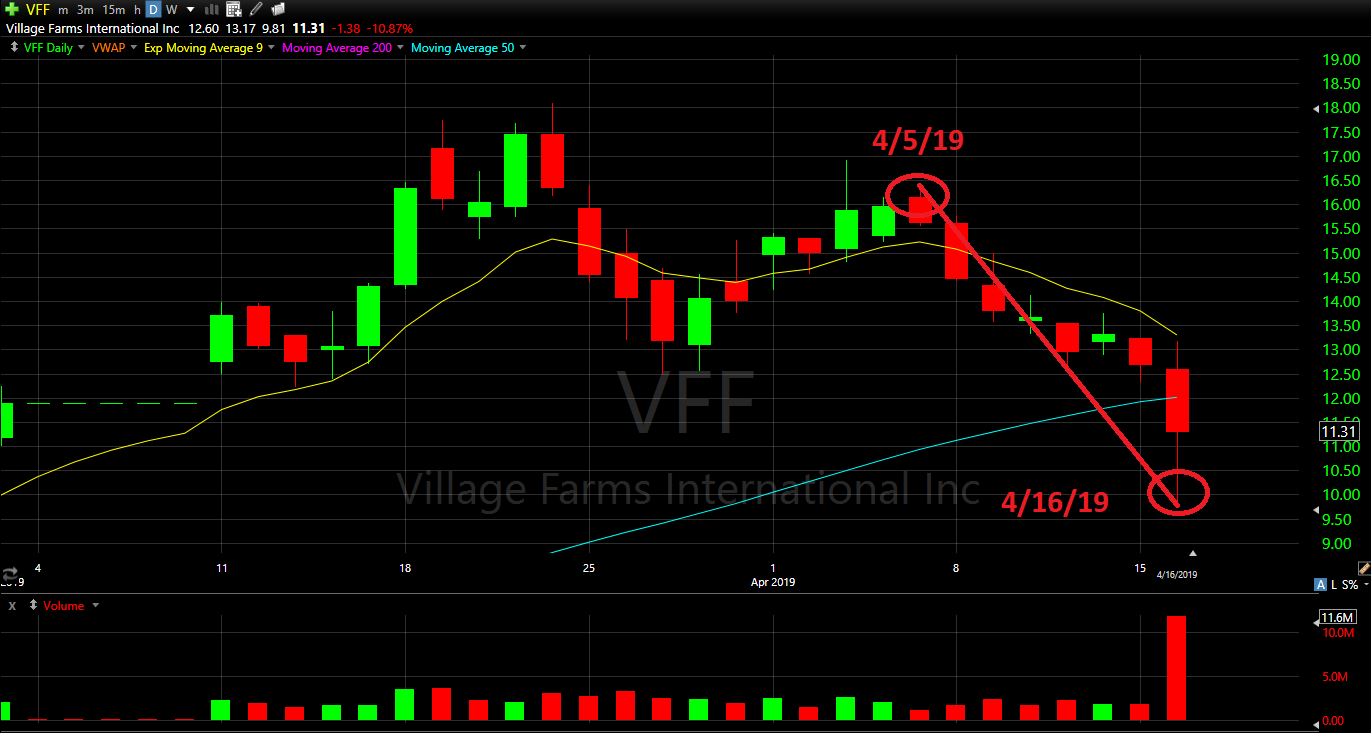 These are just a handful of sector leaders in the cannabis industry that have experienced extreme selloffs in recent days. But the list goes on and on. Similar pullbacks can be seen in numerous cannabis names. Take this overall market weakness and add all the cheap shares received from earlier financing rounds and the result is exaggerated moves to the downside.
We point this out to you not to frighten you or scare you. No. Because this isn't the first time this has happened. And it won't be the last. Markets go up and down. And we are never sure about what a stock is going to do tomorrow. Or the day after. Or the day after that. But one thing we are absolutely certain on is our confidence in the long-term potential of the cannabis industry. And the industry has seen action like this in the past. And what came next may surprise you.
Has This Happened Before?
We want to bring your attention to the Alternative Harvest ETF (MJ), the ETF that tracks the marijuana sector. Because last year in early spring 2018, the entire marijuana sector experienced a similar selloff. But the sector found a bottom in April and proceeded to rally back in May and June.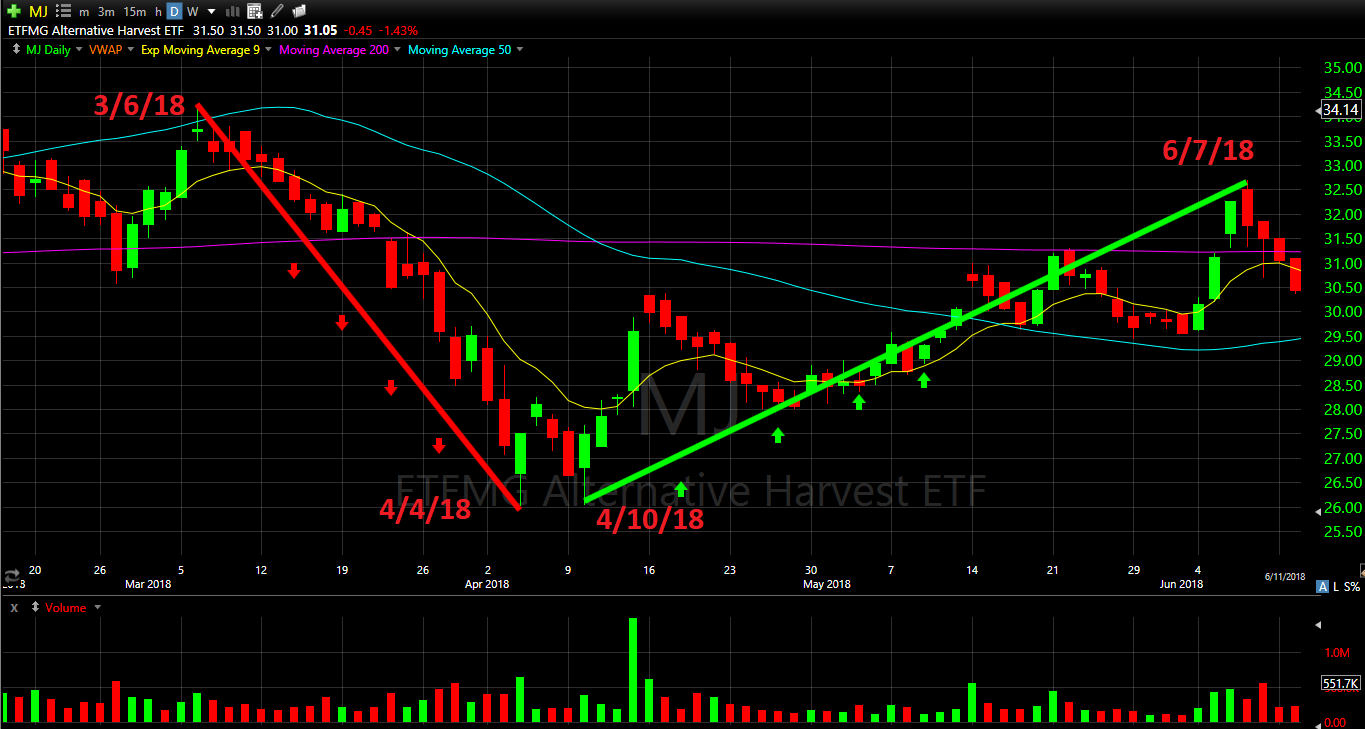 We point this out to you to show you that this is nothing new. The cannabis industry has experienced sector-wide selloffs several times in the past. And we believe the timing of our first Connect the Dots feature of 2019 ran right smack into the face of one such selloff.
Nonetheless, we stay true to our word. This was never meant to be a quick trade idea. Our stance on Nabis Holdings (CSE: NAB) (OTC: NABIF) remains the same today as it did weeks ago. We will continue to follow this company and provide updates on their progress and milestones. Because these are things that will not be affected by a market pullback:
CEO Shay Shnet and Mark Krytiuk co-founded MPX Bioceuticals which was acquired by iAnthus in the largest public takeover in the US cannabis industry to date for $835M CAD.
Binding LOI with RDF Management Group/Organica Patient Group.
LOI with PDT Technologies for what is an extraction play but also a brand play because of Tommy Chong's brand, "Chong's Choice."
Bloombox and Michigan municipal licenses are materializing.
Actively Engaging Investors As Key Conferences IE the 2019 Benzinga Capital Conference
Nabis Holdings (CSE: NAB) (OTC: NABIF) has completed its investments in a strategically located property in Bangor City, Michigan. This gives them municipal approvals for ten cultivation licenses AND one processing license.
This is Important
We felt it was important to touch base with you and all our readers to address this oversized elephant to maintain the utmost level of transparency. We value all our readers and do our very best to provide quality content and identify solid opportunities in the cannabis space. But like we said before, timing is everything. And the timing of our first Connect the Dots feature of 2019 was off. Plain and simple.
But it's important to note that this is not an isolated incident nor is it an anomaly. In fact, sector-wide selloffs have become somewhat of a norm, as have sector-wide rallies. We will continue to follow Nabis Holdings (CSE: NAB) (OTC: NABIF) Holdings and provide you with key updates. Nothing lasts forever and market trends change. But one thing is for certain, we will be there when this trend changes.
---
Disclaimer:
Pursuant to an agreement between an affiliate of MAPH Enterprises, LLC (owners of MarijuanaStocks.com), Midam Ventures LLC and Nabis Holdings, Midam has been paid $500,000 from Nabis Holdings for a period from 4/10/2019 to 7/25/2019. We may buy or sell additional shares of Nabis Holdings in the open market at any time, including before, during or after the Website and Information, to provide public dissemination of favorable Information about Nabis Holdings. Please Read Our Full Disclaimer by Clicking Here.
---
MAPH Enterprises, LLC | (305) 414-0128 | 1501 Venera Ave, Coral Gables, FL 33146 | new@marijuanastocks.com