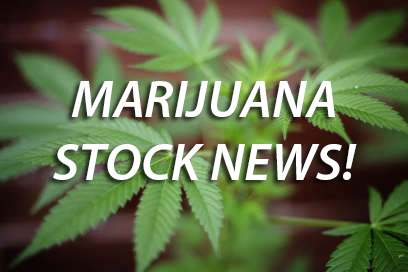 Sales of Legal Cannabis Products are Expected to Grow
According to a research report by New Frontier Data, the legal cannabis market was worth an estimated $6.6 billion in 2016, and is projected to reach more than $24 billion by 2025 or growing at a compound annual growth rate (CAGR) of 16%. The medical cannabis market is expected to grow at 12% CAGR through 2025 and growing from $4.7 billion in 2016 to an estimated $13.3 billion in 2025. During the same period, sales of cannabis products for recreational use (or adult use) are projected to grow at a 21% CAGR, from $1.9 billion to $10.9 billion. Cannabis Wheaton Income Corp. (OTC: KWFLF), GW Pharmaceuticals (NASDAQ: GWPH), Cara Therapeutics Inc (NASDAQ: CARA), Insys Therapeutics Inc (NASDAQ: INSY), Zynerba Pharmaceuticals Inc (NASDAQ: ZYNE)
"Cannabis stocks significantly outperformed major indexes in 2016, fueled by speculative investment based on anticipated expansion of new legal markets. In the run up to the election, stocks increased by 207.8% and continued to rise, even with an uncertain future under the new administration. While recent comments by the Trump administration did have an initial dampening effect on the market, we have seen continued growth relative to Q4 2016 whereby cannabis stocks are still outperforming other sectors," said Giadha Aguirre De Carcer, CEO of New Frontier Data.
Cannabis Wheaton Income Corp. (OTC: KWFLF) is also listed on the TSX Venture Exchange under the ticker symbol 'CBW'. Just earlier today the company announced breaking news that it is excited to announce the launch of its inaugural C420 community event taking place on November 16, 2017 in Las Vegas, Nevada during the annual Marijuana Business Conference (MJBizCon).
Borrowing from and following in the footsteps of the C100 Association, a non-profit, member-driven association of Canadian thought leaders in the San Francisco Bay Area committed to supporting and accelerating the innovation economy in Canada, the purpose of C420 is to bring together exceptional Canadian entrepreneurs operating in the cannabis space to share ideas, opportunities and best practices to foster a true community approach to the industry. As Cannabis Wheaton's mission is to create growth through diversity, C420 will provide a forum for a wide variety of Canadian cannabis entrepreneurs to network and collaborate in the heart of the largest cannabis conference in North America.
Ian Rapsey, Chief Creative Officer of Cannabis Wheaton stated, "Fostering and nourishing deep collaborative relationships in the Canadian cannabis community is paramount to building a strong foundation for the industry. It is our goal that what C100 is to Canadian technology entrepreneurs, C420 will be to Canadian cannabis entrepreneurs."
Mike Lickver, Executive Vice President of Cannabis Wheaton commented, "I always look forward to producing events filled with great people sharing great ideas. Hosting the C420 in Vegas is a way for our team to capitalize on an environment that already brings so many Canadian entrepreneurs together during the pre-eminent conference of the year. We anticipate an exciting and entertaining evening shared by Canadian cannabis leaders that will become the first of many annual C420 events to come."
Cannabis Wheaton's C420 event will be launched in collaboration with several industry friends who will be announced closer to launch. For more information on attending the inaugural C420 event in Las Vegas, Nevada please contact C420@cannabiswheaton.com .
GW Pharmaceuticals (NASDAQ: GWPH) is a biopharmaceutical company focused on discovering, developing and commercializing novel therapeutics from its proprietary cannabinoid product platform. Last year the company announced positive Epidiolex® (cannabidiol or CBD) Phase 3 data in poster presentations at the 70th Annual Meeting of the American Epilepsy Society. These data are from the positive pivotal Phase 3 study of Epidiolex in Dravet syndrome and the first pivotal Phase 3 study of Epidiolex in Lennox-Gastaut syndrome (LGS).
Cara Therapeutics Inc (NASDAQ: CARA) is developing lead molecules that selectively modulate peripheral CB receptors without targeting CNS cannabinoid receptors. Peripheral CB receptor modulators will be initially developed as a novel therapeutic approach for neuropathic pain, a condition currently without consistently effective therapies. Cara's most advanced CB compound, CR701, is in preclinical development. Cara's CMO Dr. Joseph Stauffer said, "Cannabinoid Receptor Agonists like CR701 have the potential to provide improved pain relief for patients suffering from neuropathic pain."
Insys Therapeutics Inc (NASDAQ: INSY) is developing treatments for a variety of conditions other than pain, including synthetic cannabidiol (CBD) for two types of pediatric epilepsy and Prader-Willi syndrome. Last year the company announced enrollment of the first patient in a Phase II clinical trial for the treatment of cocaine dependence using its pharmaceutical cannabidiol (CBD) product candidate. The study is being conducted by Dr. Didier Jutras-Aswad, MD, at the University of Montreal Hospital Research Center (CRCHUM) and is supported by the Canadian Institutes of Health Research (CIHR) and the Company.
Zynerba Pharmaceuticals Inc (NASDAQ: ZYNE) is a clinical-stage specialty pharmaceutical company dedicated to developing and commercializing innovative pharmaceutically-produced transdermal cannabinoid treatments. On September 28th the company announced positive top line results from an open label exploratory Phase 2 FAB-C (Treatment of Fragile X Syndrome Anxiety and Behavioral Challenges with CBD) clinical trial evaluating ZYN002 cannabidiol (CBD) gel in pediatric and adolescent patients with Fragile X syndrome (FXS).
Please SIGN UP NOW at http://www.FinancialBuzz.com To Receive Alerts on Trending Financial News from all these companies. "The Latest Buzz in Financial News"
Subscribe Now! Watch us report from NYSE https://www.youtube.com/FinancialBuzzMedia
Follow us on Twitter for real time Financial News Updates: https://twitter.com/financialbuzz
Follow and talk to us on Instagram: https://www.instagram.com/financialbuzz
Facebook Like Us to receive live feeds: https://www.facebook.com/Financialbuzz/
About FinancialBuzz.com
FinancialBuzz.com, a leading financial news informational web portal designed to provide the latest trends in Market News, Investing News, Personal Finance, Politics, Entertainment, in-depth broadcasts on Stock News, Market Analysis and Company Interviews. A pioneer in the financially driven digital space, video production and integration of social media, FinancialBuzz.com creates 100% unique original content. FinancialBuzz.com also provides financial news PR dissemination, branding, marketing and advertising for third parties for corporate news and original content through our unique media platform that includes Newswire Delivery, Digital Advertising, Social Media Relations, Video Production, Broadcasting, and Financial Publications.
Please Note: FinancialBuzz.com is not a financial advisory or advisor, investment advisor or broker-dealer and do not undertake any activities that would require such registration. The information provided on http://www.FinancialBuzz.com (the 'Site') is either original financial news or paid advertisements provided [exclusively] by our affiliates (sponsored content), FinancialBuzz.com, a financial news media and marketing firm enters into media buys or service agreements with the companies which are the subject to the articles posted on the Site or other editorials for advertising such companies. Financialbuzz.com has not been compensated directly by any of the companies mentioned here in this editorial. We are not an independent news media provider and therefore do not represent or warrant that the information posted on the Site is accurate, unbiased or complete. FinancialBuzz.com receives fees for producing and presenting high quality and sophisticated content on FinancialBuzz.com along with other financial news PR media services. FinancialBuzz.com does not offer any personal opinions, recommendations or bias commentary as we purely incorporate public market information along with financial and corporate news. FinancialBuzz.com only aggregates or regurgitates financial or corporate news through our unique financial newswire and media platform. For this release, FinancialBuzz.com has been compensated five thousand dollars for financial news dissemination and pr services by a non-affiliate third party for cannabis wheaton income corp. Our fees may be either a flat cash sum or negotiated number of securities of the companies featured on this editorial or site, or a combination thereof. The securities are commonly paid in segments, of which a portion is received upon engagement and the balance is paid on or near the conclusion of the engagement. FinancialBuzz.com will always disclose any compensation in securities or cash payments for financial news PR advertising. FinancialBuzz.com does not undertake to update any of the information on the editorial or Site or continue to post information about any companies the information contained herein is not intended to be used as the basis for investment decisions and should not be considered as investment advice or a recommendation. The information contained herein is not an offer or solicitation to buy, hold or sell any security. FinancialBuzz.com, members and affiliates are not responsible for any gains or losses that result from the opinions expressed on this editorial or Site, company profiles, quotations or in other materials or presentations that it publishes electronically or in print. Investors accept full responsibility for any and all of their investment decisions based on their own independent research and evaluation of their own investment goals, risk tolerance, and financial condition. FinancialBuzz.com. By accessing this editorial and website and any pages thereof, you agree to be bound by the Terms of Use and Privacy Policy, as may be amended from time to time. None of the content issued by FinancialBuzz.com constitutes a recommendation for any investor to purchase, hold or sell any particular security, pursue a particular investment strategy or that any security is suitable for any investor. This publication is provided by FinancialBuzz.com. Each investor is solely responsible for determining whether a particular security or investment strategy is suitable based on their objectives, other securities holdings, financial situation needs, and tax status. You agree to consult with your investment advisor, tax and legal consultant before making any investment decisions. We make no representations as to the completeness, accuracy or timeless of the material provided. All materials are subject to change without notice. Information is obtained from sources believed to be reliable, but its accuracy and completeness are not guaranteed. For our full disclaimer, disclosure and Terms of Use. Please visit: http://www.financialbuzz.com.
For further information:
info@financialbuzz.com
+1-877-601-1879
Url: http://www.FinancialBuzz.com
SOURCE FinancialBuzz.com