The coronavirus has caused quite a big stir amongst marijuana stocks. In only the span of two to three weeks, we have witnessed billions in market value lost. Much of this can be considered short term volatility if not all of it due to the nature and timeline of the losses incurred. But, this does not mean that it is any easier to predict what will happen in the next few months. In the past week or so, we have witnessed some stability in pot stock trading. This stability is characterized by slower gains and slower losses. The fact that we are witnessing a slow down of this massive market panic, means that we could be nearing a tipping point for investor fear.
[Read More]
Fear is truly the major factor in why marijuana stocks have seen so much in losses in the past several weeks. When investors are trading off of fear, we often see rapid spikes and losses in stock prices. This is completely the case that we have witnessed amongst pot stocks in only a short period of time. Again, however, it is difficult to predict when this volatility will begin to slow down. Although this virus is far from over, it does look like the world is pushing its efforts to contain it at a greater speed. Because of this, some pot stocks look like they could have a better chance at surviving this than others.
A Beaten Down Pot Stock Looking To Bounce
Aurora Cannabis (ACB Stock Report) is one of the largest marijuana stocks in the business. Despite it's size, it has been pretty badly beaten down in the past several months. Over the past six months, the company has shed north of 80% in value which is more than substantial. In addition to this, the company's stock price of around $0.80, means that it is at risk of being delisted. Now that all of the negatives are out of the way, there are some interesting things that Aurora is doing. As the second-largest pot stock in the industry, the company has an extreme amount of cannabis production in the works.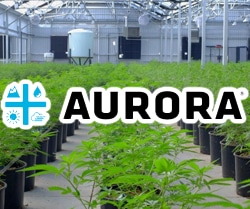 With demand skyrocketing in the past three weeks, it seems as though the company could benefit from the current state of the cannabis market. In addition to this, the top management at Aurora has been working tirelessly to try and solve the cash issues that the company has. They are doing this by laying off workers and cutting production amounts. This means that the new and streamlined Aurora Cannabis could soon be a pot stock to watch. But only time will tell.
An Interesting Cannabis Retailer
Planet 13 Holdings (PLNHF Stock Report) is one of the leading retailers of cannabis working out of the Western U.S. The company owns several retail locations but its most important is known as the SuperStore. The appropriately titled SuperStore is situated just off of the Las Vegas Strip, where customers come from far and wide to see the spectacle. What spectacle you may ask? Well, the store totals over 100,000 square feet and within it is everything from a coffee shop to a pizzeria and a cannabis testing facility.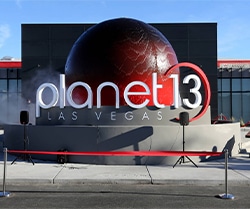 The company has continued to show success at this location, albeit not recently with the pandemic going on. Recently, the company also announced that its branded products have brought in more than $1 million in sales for the month of February of this year. Its own in house brand is just one part of the companies larger expansion project. The company has stated that it has plans to open another store in Santa Ana, CA which should span almost as much as the SuperStore. As a pot stock that occupies a very interesting niche, Planet 13 Holdings remains an intriguing company to keep an eye on.
---
MAPH Enterprises, LLC | (305) 414-0128 | 1501 Venera Ave, Coral Gables, FL 33146 | new@marijuanastocks.com