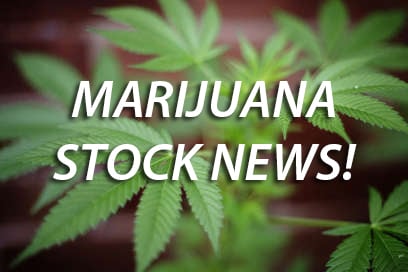 Aurora Cannabis and Alcanna Enter into Exclusive License Agreement for Alcanna Operated, Aurora-branded Retail Stores
 Aurora Cannabis Inc. ("Aurora")(ACB.TO) (ACBFF) ( Frankfurt : 21P; WKN: A1C4WM) and Alcanna Inc. ("Alcanna") (CLIQ.TO) today announced the companies have reached  a license agreement whereby Alcanna has been given  exclusive rights to open retail cannabis stores under the brand name "Aurora" across Canada . Alcanna's position as the biggest private sector liquor retailer in Canada , aligns with Aurora's position as one of the world's leading cannabis companies.
In February, Aurora announced its strategic investment in Alcanna (formerly Liquor Stores NA), the Edmonton, Alberta -based retailer of alcoholic beverages with 229 retail outlets in Western Canada and Alaska , with a view to establishing a leading brand of cannabis retail outlets. This forward-thinking partnership combines Aurora's brand leadership, high-quality products, customer care and scientific innovations with Alcanna's well-established retailing infrastructure and expertise. Over the last 25 years, Alcanna has established an exemplary track-record of responsibly retailing controlled substances in retail environments that require strict compliance with government regulations.
Aurora and Alcanna have created a unique and engaging, state-of the art consumer retail concept that aims to deliver an inviting, inclusive, and educational experience. Highly trained Category Specialists will engage both new and experienced consumers with superior product knowledge and socially responsible advice. The stores will operate under the "Aurora" banner, but will represent a house of brands, carrying a carefully curated, but broad selection of products from Licensed Producers across Canada , including Aurora, MedReleaf and CanniMed.
Highlights
Alcanna will build, own and operate the new cannabis stores, where permitted, leveraging its experience and expertise as a responsible retailer of controlled substances.
The stores will operate under the Aurora name, providing immediate brand recognition based on the company's reputation as a producer of high-quality cannabis products.
Alcanna is currently converting several of its existing liquor stores into cannabis retail outlets.
Additionally, Alcanna has leveraged its long-standing relationships with commercial landlords to secure a multitude of primary locations across Alberta .
When permitted by government, Alcanna is well-prepared to open a large number of retail stores in any province in Canada .
In Alberta , Alcanna anticipates opening 37 stores, starting October 17, 2018 , the maximum number permitted to a single operator under provincial regulations in year one of legalized adult consumer use.
Alcanna will use its deep connections with general contractors and trades, enabling it to quickly mobilize construction teams at approved sites.
Alcanna will retain Aurora through CanvasRx, CanniMed and MedReleaf, which have deep experience working with cannabis users, and unparalleled data regarding efficacy and customer experience to assist in training its in-store associates know as Category Specialists.
"This Agreement between Aurora and Alcanna, combining physical presence, retail experience, capacity and expertise with our brand strength, product know-how and deep data, creates a significant competitive advantage that will allow for the rapid development of a robust retail network in Alberta , and any other jurisdiction that permits private retail of cannabis for adult consumer use," said Aurora CEO Terry Booth . "We have collaborated on store design and layout to ensure the ultimate customer-focused experience, based on a broad selection of products that we anticipate will resonate strongly with the adult consumer use market."
James Burns , CEO of Alcanna, added, "For the last five months, expert teams in store development, merchandising, training and product knowledge have been working steadily toward bringing the  best cannabis retail stores to life in Alberta" "We have deep capabilities that will enable us to rapidly develop a large network of well-located cannabis stores, delivering a unique customer experience from October 17, 2018 onwards. Launching this retail network under the Aurora name will capitalize on its reputation as a leader in producing high-quality cannabis products, created with the consumer in mind. We are excited to operationalize this vision, and execute rapidly in Alberta , and across Canada , wherever we are permitted to do so."
About Aurora
Headquartered in Edmonton, Alberta , with funded capacity in excess of 570,000 kg per year and sales and operations in 14 countries across five continents, Aurora is one of the world's largest and leading cannabis companies. Aurora is vertically integrated and horizontally diversified across every key segment of the value chain, from facility engineering and design to cannabis breeding and genetics research, cannabis and hemp production, derivatives, high value-add product development, home cultivation, wholesale and retail distribution.