VBIO has now gained 42% since we re-initiated coverage on the company on April 20th at $1.93. On May 3rd, VBIO rocketed out of the gate hitting a high of $2.74 after announcing the addition of key clinical advisors in gastroenterology. This comes just days after we sent an email to subscribers saying to look for a break above resistance as momentum could pick up soon. And our timing was perfect.
This is the second time we initiated coverage on this company and the results are beginning to look a lot like the first time. Our initial coverage began back on December 6, 2016, at $1.01. Within less than 1 month, VBIO exploded 320%. Now, here we are less than two weeks into our second round of coverage and VBIO has already gained 42%.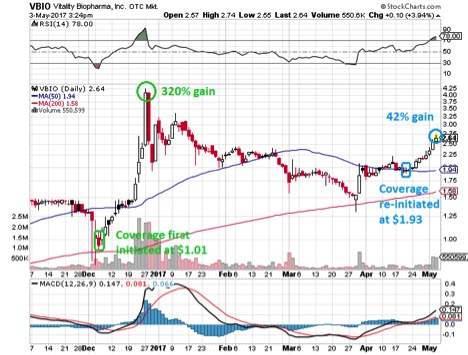 Check out the experience of the advisors the company just added:
Vitality Biopharma Adds Key Clinical Advisors in Gastroenterology
Vitality Biopharma announced Dr. Douglas A. Drossman and Dr. Mark Gerich as clinical advisors with expertise in gastroenterology and treatment of digestive disorders.
Douglas A. Drossman, M.D., is a founder and now President of the Rome Foundation, an independent nonprofit research organization dedicated to improving the lives of people with functional GI disorders. Dr. Drossman is an Emeritus Professor of Medicine and Psychiatry at the University of North Carolina (UNC) School of Medicine. He is a recognized expert in the diagnosis and treatment of narcotic bowel syndrome, a severe form of opiate-induced abdominal pain, having authored seminal publications describing this condition. Dr. Drossman established a program of research in functional GI disorders at UNC more than 25 years ago and has published more than 500 books, scientific articles, and abstracts. He received his MD from Albert Einstein College of Medicine in 1970 and completed medical residencies at the University of North Carolina School of Medicine and the New York University-Bellevue Medical Center.
Mark Gerich, M.D., currently serves as the Clinical Director of the University of Colorado Crohn's & Colitis Center and conducts clinical and translational research focused on the pathogenesis and treatment of inflammatory bowel disease (IBD). He received his undergraduate degree from Cornell University and a dual MD/MBA degree from McGill University in Montreal, Quebec, Canada. Dr. Gerich received his internal medicine training at the University of California Davis Medical Center and completed his fellowship in gastroenterology and hepatology at the University of Colorado in 2011. After completing an advanced IBD fellowship at Cedars-Sinai Medical Center in Los Angeles, Dr. Gerich joined the faculty in the Division of Gastroenterology and Hepatology at the University of Colorado.
These key additions add to an already attractive story unfolding with Vitality Biopharma. And we were some of the first ones to identify the opportunity. Our timing continues to be spot on so stay tuned for further updates regarding VBIO.
---
Disclaimer: Pursuant to an agreement between MAPH and a non affiliate third party, we were previously hired for a period of 30 days to publicly disseminate information about (VBIO) including on the Website and other media including Facebook and Twitter. We were paid $100,000 (CASH) for or were paid "ZERO" shares of unrestricted or restricted common shares. We own zero shares of (VBIO) which we purchased in the open market. We may buy or sell additional shares of (VBIO) in the open market at any time, including before, during or after the Website and Information, provide public dissemination of favorable Information