How Have Marijuana Stocks Performed Post Trump?
Here we are, the official inauguration day of our 45th President of the United States of America, Donald Trump. A lot has been said about him over the last few years during the election race but what many may not have expected was a clear "Trump Bump" for marijuana stocks.
As we've said in the past, a lot of marijuana stocks are event driven. Going all the way back to 2014 and during the years to follow, catalysts in the cannabis market can be tied to actual events in many cases. For this most recent jump in marijuana stock prices, we see that an election year and a not so conservative President may be the event to thank for this.
In this article we'll briefly explore some of the most active and most bullish marijuana stocks in the market to give a clear example of "where we've been" and what we might be able to look forward to as to "where we're going".
OWC Pharmaceutical Research Corp. (OWCP) 3,512%
This company has been building steam since October and just recently went into overdrive to all time highs. Through its subsidiary, One World Cannabis, the Israeli-based company develops cannabinoid-based therapies that target different medical conditions. This was another cannabis biotech company that saw the impact of Trump coming into office instead of Clinton (who was very bearish on biotech).
In late October just before the elections, OWCP saw its first noticeable move from under $0.03 and initially ran to highs of $0.215. Following the consolidation period heading into the end of the year (as most marijuana stocks saw), January opened the door for this stock to run as high as $0.95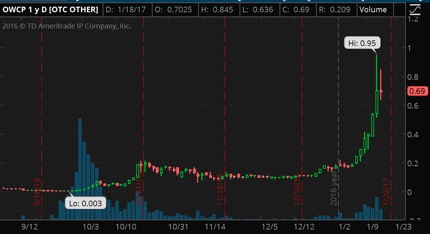 Rocky Mountain High Brands (RMHB)
271%
We've reported on this company and followed it for a few years. Even before when it was "Totally Hemp Crazy (THCZ)" this stock saw one of the biggest breakouts that we've every witnessed. It went from sub penny to highs of 0.32 within weeks. Now it appears that chart has demonstrated a similar Trump Bump that many of the other marijuana stocks have also seen.
In early October, volume began to build, RMHB ran from $0.031 to highs of $0.07. After consolidating back to 0.03-0.04, RMHB has now seen its 2017 rally trigger and has now managed to run past $0.11. Rocky Mountain is a consumer goods company specializing in brand development of health conscious, hemp-infused food and beverage products. The Company currently markets a lineup of four naturally flavored hemp-infused beverages (Citrus Energy, Black Tea, Mango Energy and Lemonade) and a low-calorie Coconut Lime Energy drink. Rocky Mountain High Brands also offers hemp-infused 2oz. Mango Energy Shots and Mixed Berry Energy Shots, as well as a Relaxation Brownie.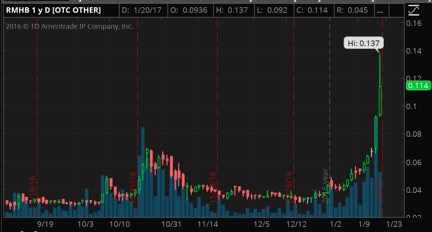 Ubiquitech Software Corp. (UBQU)
304%
UBQU follows a similar trend where even though it hasn't broken above its year end highs, the stock has seen a reversal that started at the beginning of 2017. A lot of questions were raised regarding a previously announced name change and recently the company gave clear guidance on this for 2017 that has brought attention back to the stock from market bulls. Its final name change will be Endo BioSciences Inc., and HempLife Today™ will continue to be the main subsidiary of the company.
HempLifeToday™ focuses on the exciting and dynamic new thinking in the world today that recognizes the important health and life enriching enhancement that CBD Oil from the Hemp plant can bring. Through its network of quality USA growers HempLifeToday.com™ has developed multiple and proprietary CannazALL™ CBD oil products that include; its popular CBD Tinctures, Oils, GelCaps, CBD Powder, Skin Salve, Wax Crumble, and e-liquid.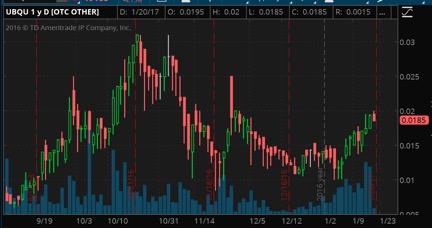 mCig, Inc. (MCIG)
1,265%
A company that we've kept up with for the better part of the last year, MCIG became another clear example of what marijuana stocks have started to look like after Donald Trump was elected President. The company has been making many key strides over the last few months including posting some of its best numbers in history.
This includes MCIG currently holding over $10 million in order/contract backlog (as of their last PR in December). In similar fashion to OWCP, shares of MCIG saw a bump in late October when the stock moved from under $0.04 to as high as $0.218. After consolidating in early December, MCIG manage to rally strong heading into the end of the year and recently hit highs of $0.505.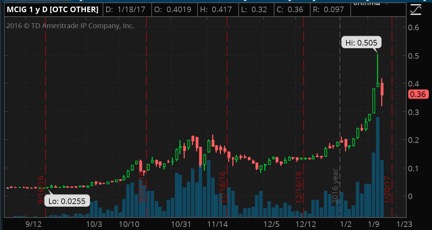 Axim Biotechnologies, Inc. (AXIM)
3,941%
Another company that we've been following very closely, this has been one of the biggest runners of the year amid heavy volatility. Another cannabis biotech, the company focuses on the research, development and production of cannabis-based pharmaceutical, nutraceutical and cosmetic products. Our flagship products include CanChew®, a CBD-based controlled release chewing gum, and MedChew Rx, a combination CBD/THC gum that is undergoing clinical trials for the treatment of pain and spasticity associated with multiple sclerosis. MJNA is also an investor in AXIM.
In late October the stock was trading just under $0.50 moved to a high of $10 before consolidating to levels between $7.50-$8. Wouldn't you know it, heading into the beginning of 2017 the stock broke the sideways trend and moved to highs of $19.80.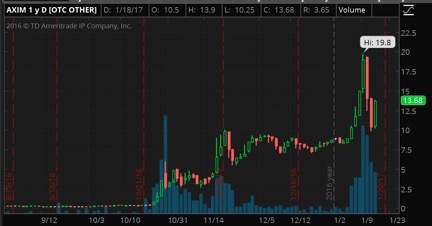 Vitality Biopharma (VBIO)
361%
A company that many of us are familiar with, this cannabis biotech had a smaller run a few weeks before we started picking up coverage. In early October, the stock moved up from around $0.92 to highs of $1.84. After pulling back to lows in December, we began looking at this company at $0.98 and watched as it ran to highs of $4.24. The company is a cannabis biotech focusing on treating disease through its prodrug utilizing cannabinoids for the treatment of serious neurological and inflammatory disorders.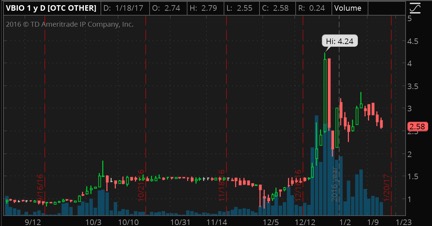 Cannabis Science (CBIS)
469%
The company specializes in the development of cannabinoid-based medications and recently announced a collaborative research agreement with Dana Farber/Harvard Cancer Center. Their initial focus is on skin cancers, HIV/AIDS, and neurological conditions. The Company is proceeding with the research and development of its proprietary drugs as a part of this initial focus: CS-S/BCC-1, CS-TATI-1, and CS-NEURO-1, respectively.
From October 3 to October 19 CBIS jumped from $0.0169 to as high as $0.077. After pulling in during December, the stock kicked off the new year with a big bull run all the way to highs of $0.0961 for the year so far.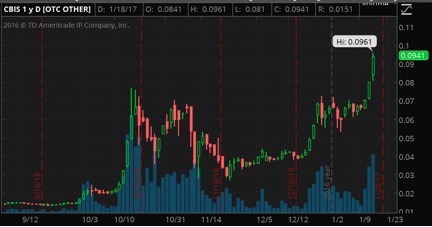 Hemp Inc. (HEMP)
103%
One of the most vocal companies on Hemp production in the US, Hemp Inc. They've continued to push for a ubiquitous acceptance for all uses of the hemp plant for years now and have targeted North Carolina to grow over 3,000 acres of hemp.
"We are proud to collaborate with other American industrial hemp farmers as we now become part of the modern industrial hemp farming movement. This is a turning point for America and it's a turning point for Hemp, Inc. Hemp, Inc. has the infrastructure in place to process millions of pounds of hemp fibers and stalks a year, on a commercial level. Our 70,000 square foot industrial hemp processing facility, on over 9 acres in Spring Hope, North Carolina, is the only one of this magnitude in North America. The industrial hemp crop is part of history in the making and it is something that will prove to be lucrative not only for the farmers in North Carolina but for Hemp, Inc. as well," said CEO Bruce Perlowin in a recent PR.
HEMP saw a bump in volume early in October, the stock ran from $0.0276 to $0.056 before consolidating in late November/December, and has once again begun to aggressively climb back from that price channel.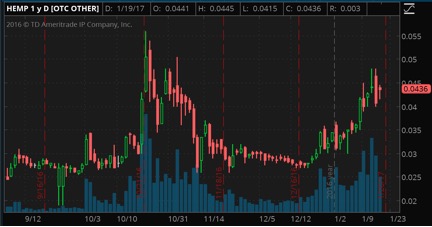 Cannabis Sativa, Inc. (CBDS)
195%
With multiple subsidiaries, this company has products ranging from hemp oils & capsules to cannabidiol infused bottled water and even its own patented cannabis plan named Ecuadorian Sativa (Patent PP27,475). Back in late September the stock was trading around $2.80 per share before it jumped up to highs of $8.25. After consolidating for weeks leading up to the new year, CBDS has once again followed suit of many marijuana stocks having now climbed back above $8.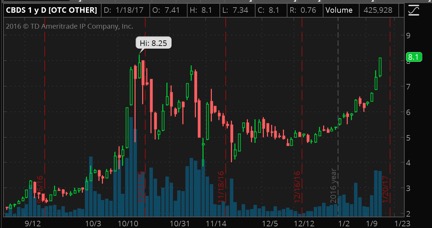 OH CANADA!
This leads us to our "neighbors up north" because we haven't just seen a boom from US marijuana stocks alone. The trend has echoed into Canada with some of the most anticipated IPOs so far this year
Emblem Corp. (TSXVENTURE:EMC)(OTCQB:EMMBF)
55%
Emblem Corp, a Licensed Cultivator out of Paris Ontario is one of the most watched and anticipated offerings that has come out of Canada in the last few months. Beyond the fact that they are already growing cannabis and revenue producing investors have taken note of one of their founders and current President, a gentleman by the name of John Stewart.
No, not John Stewart from the Daily Show even though that would be awesome, John Stewart former CEO of Purdue Pharma one of the largest private biotech companies in the world and creators of OxyContin. We see the potential long term to create a cultivator/Biotech hybrid in which case Emblem could be the Next GW Pharma of Canada.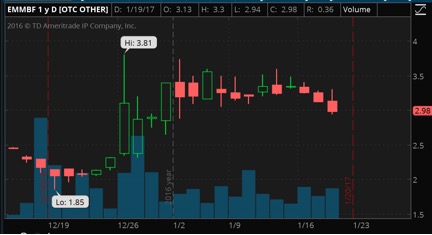 InMed Pharmaceuticals, Inc. (OTCQB: IMLFF) (CNSX: IN)
326%
This company has been following the same pattern as many of the other cannabis biotechs but also comes with what looks to be a stock promotion behind it. The company recently appointed Jeff Charpentier, CPA, CA as InMed's Chief Financial Officer & Corporate Secretary as well as Martin Bott to its Board of Directors; Bott has worked at Eli Lilly & Company since 1988 and held a variety of roles in the U.S., Switzerland, Germany, and the UK.
InMed is a pre-clinical stage biopharmaceutical company that specializes in developing novel therapies through the research and development into the extensive pharmacology of cannabinoids coupled with innovative drug delivery systems. IMLFF saw a rise in price early in October (shocker right?), a period of consolidation leading up to the new year, and since that ball dropped, the stock has been on the run moving from $0.10 in October to highs of $0.4261 just a few days ago.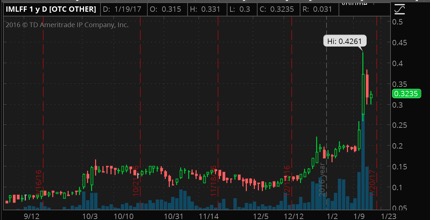 Aurora Cannabis Inc. (TSXV: ACB) (OTCQB: ACBFF)
179%
The company's wholly-owned subsidiary, Aurora Cannabis Enterprises Inc., is a licensed producer of medical cannabis pursuant to Health Canada's Access to Cannabis for Medical Purposes Regulations (ACMPR) and operates a 55,200 square foot, expandable, state-of-the-art production facility in Mountain View County, Alberta, Canada.
They just announced that the company has officially surpassed 12,000 registered patients within the first 12 months of product sales in Canada. They also announced that they had signed a Joint Venture Research Agreement with Radient Technologies Inc. ("RTI"). The first phase of this venture will include screening experiments of extraction conditions, while phase two includes larger scale experiments related to extraction throughput and optimal extraction conditions. Aurora's scientists and the RTI team will commence tests January 16, 2017, and the first phase is expected to be completed within approximately six weeks, so something to keep an eye on here in our opinion.
Likewise with the other stocks, the market activity has followed suit even though Aurora has differed by not breaking a new high this year as compared to the high it made in November. But the new uptrend on the chart could be a key indicator for future potential. Since October (at $1.06), shares of ACBFF has seen two and possibly three clear runs; One that saw highs of $1.89 before consolidating, another that saw highs of $2.96 before consolidating, and possibly a new uptrend forming now in January.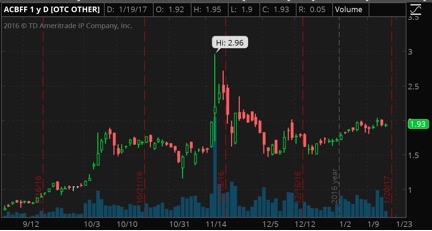 These are just a few marijuana stocks that have demonstrated a near identical move in the market both leading into the election and leading up to the inauguration. We've said it before and most likely will say it again: Marijuana Stocks can very much be event driven so something to keep in the back of your head as we watch 2017 unfold. As investors become more informed on the industry itself, we'll keep our had on the pulse to find the real story behind some of the biggest marijuana stock moves in the market today.
---
Pursuant to an agreement between MAPH and a non affiliate third party, we were hired for a period of 30 days to publicly disseminate information about (VBIO) including on the Website and other media including Facebook and Twitter. We are being paid $100,000 (CASH) for or were paid "ZERO" shares of unrestricted or restricted common shares. We own zero shares of (VBIO) which we purchased in the open market. We plan to sell "ZERO" shares of (VBIO) that we hold during the time the Website and/or Facebook and Twitter Information recommends that investors or visitors to the website purchase without further notice to you. Pursuant to an agreement between MAPH and Ubiquitech Software Corp., we were hired for a period beginning November 11 2016 and ending May 11, 2017 to publicly disseminate information about (UBQU) including on the Website and other media including Facebook and Twitter. We are being paid $0 (CASH) for or were paid "10 million" shares of restricted common shares. MAPH owns 2 million common restricted shares of mCig Inc. MAPH owns 10 million common restricted shares of Hemp Inc. An affiliate of MAPH owns 70,850 common restricted shares of Emblem Corp. We may buy or sell additional shares of any stocks mentioned, in the open market at any time, including before, during or after the Website and Information, provide public dissemination of favorable Information