On 12/6/2016 we initiated coverage of Vitality Biopharma (VBIO) at $0.98. (VBIO) began to quickly trade north and on 12/19/16 we identified the potential for a short squeeze, that would eventually materialize and push (VBIO) to $4.24 on 12/27/16, for a gain of 332%! In less than 1 month!
(See Chart Below for Full Breakdown of Previous Coverage)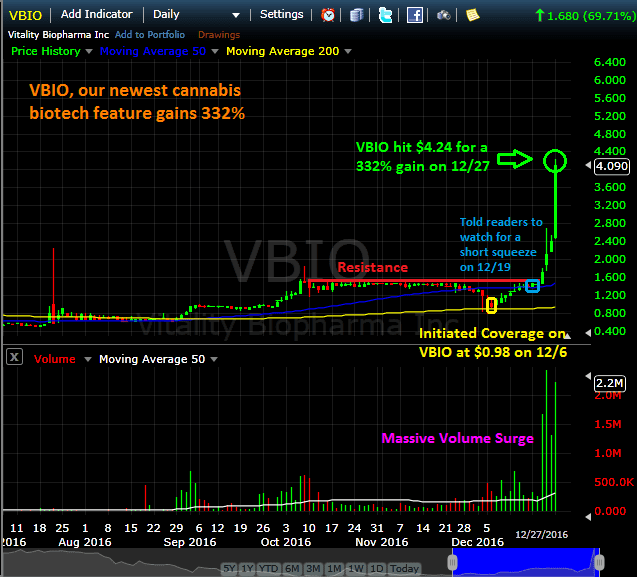 We are Re-Initiating Coverage on
Vitality Biopharma (VBIO)
Recently (VBIO) has made several key announcements that have caught our attention and deserves yours, for example:
Seems Like We're Not the Only Ones
Taking Notice of (VBIO)
Analysts that report to Yahoo Finance have given Vitality Biopharma (VBIO) a 1-year estimated price target of $10.40!!!
(See Screen Shot Below or Click Here to See for Yourself)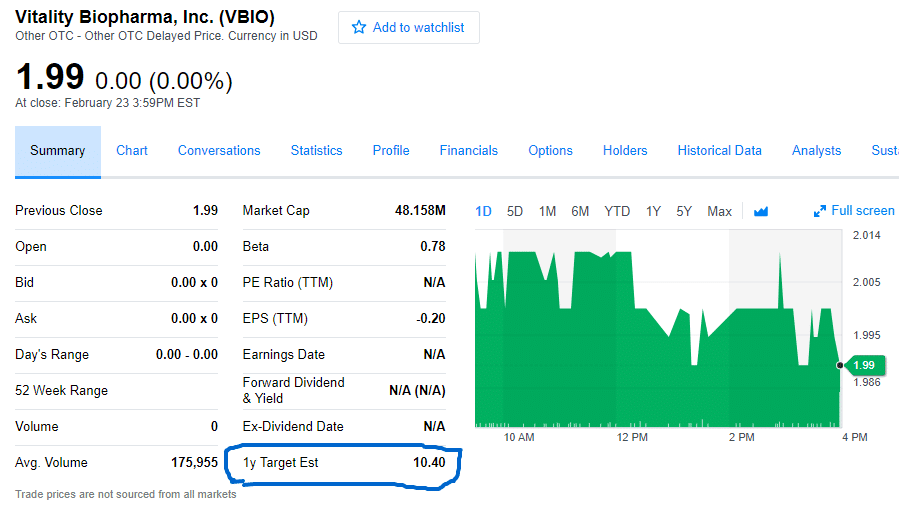 Let's do the math on that… (VBIO) is currently sitting at $1.99 per share, if the analysts that report to Yahoo Finance are correct that would be a gain of 422%! Even if they're off by half… say it hits $5.40 that's potentially a gain of 171%!
Here's What's to Come
We are currently hard at work on a brand new corporate profile for Vitality Biopharma (VBIO) but rather than wait to re-introduce coverage we are once again putting our members 1st and wanted to get (VBIO) back out, front and center to afford you the best opportunity to jump back in, if you so choose.
Stay Tuned There is WAY More to Come On (VBIO)!
---
Pursuant to an agreement between MAPH and a non affiliate third party, we were hired for a period from 2/26/2017 – 3/26/2017 to publicly disseminate information about (VBIO) including on the Website and other media including Facebook and Twitter. We are being paid $100,000 (CASH) for or were paid "ZERO" shares of unrestricted or restricted common shares. We own zero shares of (VBIO), which we purchased in the open market. We plan to sell the "ZERO" shares of (VBIO) that we hold during the time the Website and/or Facebook and Twitter Information recommends that investors or visitors to the website purchase without further notice to you. We may buy or sell additional shares of (VBIO) in the open market at any time, including before, during or after the Website and Information, provide public dissemination of favorable Information.