POTN Stock Chart & Overview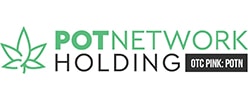 PotNetwork recently announced that Diamond CBD, Inc. (POTN) had disclosed groundbreaking first quarter 2017 sales results of $1,858,347.48, which exceeded the total sales volume of $1,663,081.78 for the entire calendar year of 2016.
With such huge sales and continued product development, more press coverage is expected in the coming months, which in turn, is likely to lead to increased interest and trading in the company's stock. Read more about POTN here.