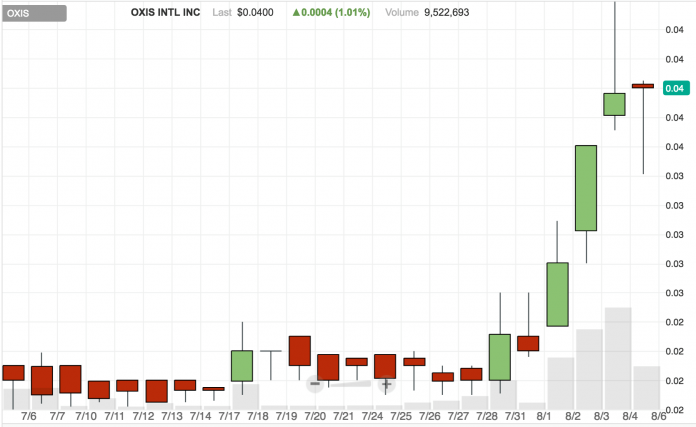 For the last week, we've been covering a company that has seen a huge bump in attention and trading momentum.  GT Biopharma (OXIS) could be at a major tipping point.  This not only comes after the recent surge in trading but also following the company's most recent announcements.  These include the addition of new patients to the company's Phase 2 FDA trials as well as the previously announced agreement to acquire Georgetown Translational Pharmaceuticals Inc.
This morning (OXIS) announced that it will be holding a conference call, hosted by www.biotechstocks.com, to discuss the upcoming merger of Georgetown Translation Pharmaceuticals, Inc. and advancements made with the targeted immunotherapies currently in FDA clinical trials.
Remember, (OXIS) is a previous triple digit runner and late Friday afternoon (8-4) we saw a clear rebound from lows of the day.  This momentum could be the first spark at the next move for this previous 400% runner. If you have not done so, take a close look at (OXIS) and CLICK HERE NOW for full details to attend the company's conference call, this week.
---
MAPH Enterprises LLC, owners of MarijuanaStocks.com, has not been compensated for mention of Oxis International (OXIS). An affiliate company MIDAM Ventures LLC., a Florida Corporation has been compensated $150,000 by OXIS International Inc. (OXIS) for a period beginning August 1, 2017 and ending September 1, 2017 to publicly disseminate information about OXIS International Inc. (OXIS). We own zero shares.