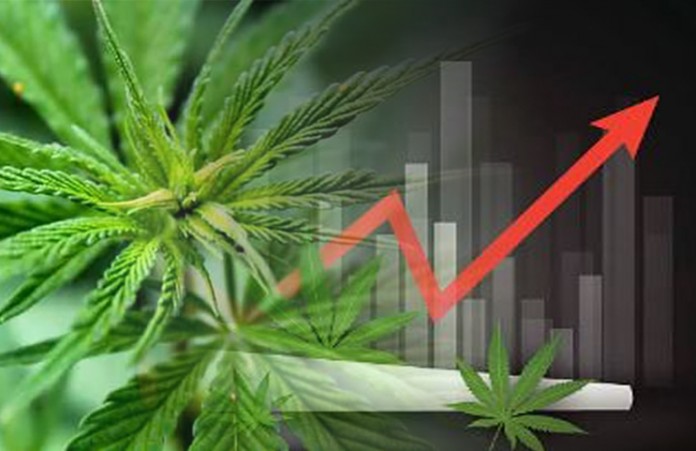 In the midst of some light trading this past Thursday, marijuana stocks continued to gain as The North American Marijuana Index (NAMI) endured its rally into the last trading day of the year. In Canada, marijuana stocks influenced the broader markets as the key players in the game began to enjoy the mainstream attention. But, it was the United States' marijuana stocks that more of an influence of the NAMI, which closed the day up 14.13 points, 5.5 percent, ending at 270.91.
Regardless of thin trading during the holiday week, Wall Street improved as the Dow Jones Industrial Average, the NASDAQ, and the S&P 500 all brining in gains. Marijuana investors are excited to ring in the new year for a different reason this year; January 1 marks the commencement of California's adult-use recreational market, which is forecast one of the largest in the world. The U.S. Marijuana Index increase more than 11 percent on Thursday, closing at 91.79.
The Canadian Marijuana Index generated some gains as well. As a matter of fact, the marijuana stocks influenced Canada's main stock index to reach a record for the second consecutive day, alongside with energy and tech stocks. On Thursday, the TSX closed at 16,221.95, a gain of 0.12, and the TSX Venture closed at 842.24, an increase of 1.88 percent. But, the gains did not show in The Canadian Marijuana Index, which closed at 711.88, a gain of 1.56 percent.
Winners and Losers
GT Biopharma (GTBP) whose share prices rose 37.34 percent on higher than average trading volume over the last 30 days. The company recently announced the filing of their application to list its common stock on the NASDAQ capital market.
Cronos Group Inc. (PRMCF) has recently announced their first shipment of products to a German company, and shares increased over 26 percent on increased trading volume.
Namaste Technologies Inc (NXTTF) saw their share prices drop nearly 12 percent, following their trading being halted by the IIROC. GW Pharmaceuticals Plc (GWPH) announced that that their drug Epidiolex received fast-tracked by the FDA and their share price fell 1.06 percent on average trading volume.
---
DISCLAIMER: An affiliate of MAPH Enterprises LLC, Midam Ventures has been compensated $950,000.00 by GT Biopharma, Inc. (GTBP) for a period beginning August 1st, 2017 and ending December 31st, 2017 to publicly disseminate information about GT Biopharma, Inc. (GTBP). We own zero shares of (GTBP). We may buy or sell additional shares of (GTBP) in the open market at any time, including before, during or after the Website and Information, provide public dissemination of favorable Information.