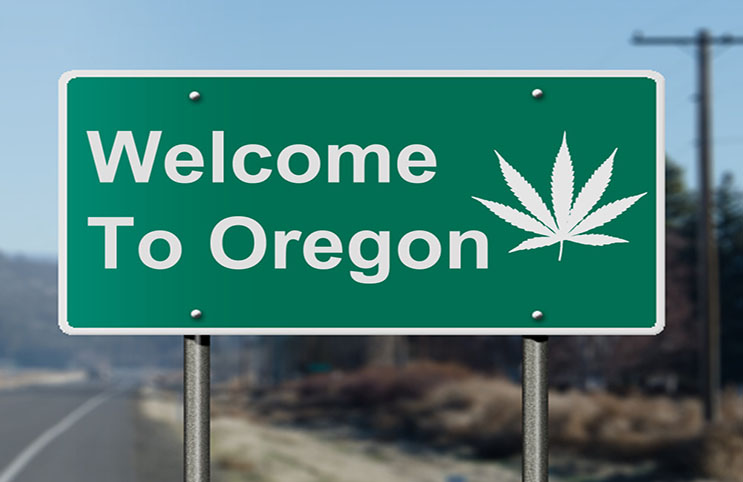 Oregon state legislators who fear elevated marijuana enforcement by federal agents recently approved a bill to protect marijuana users from having their identities or buying habits from being divulged by the shops that make buying pre-rolled joints and "magic" brownies as easy as grabbing a bottle of whiskey from the liquor store.
The bipartisan bill would protect marijuana consumers by abolishing a common business practice in this Pacific Northwest state where marijuana shops often keep a digital paper trail of their recreational pot customers' names, birthdates, addresses, and other personal information. The data is gleaned from their driver's licenses, passports, or whatever other form of ID they present at the door to prove they're at least 21 as required by law.
The data is often collected without customers' consent or knowledge. It is stored away as proprietary information the businesses use mostly for marketing and customer service purposes, such as linking their driver's license number with every pot product they buy so dispensary employees are better able to help out during their next visit.
The measure that passed 53-5 now heads to Democratic Governor Kate Brown, who is expected to sign it into law. It would bring Oregon statutes in line with similar laws already in place in Alaska and Colorado and self-imposed industry standards in Washington state. The only other three U.S. states were where recreational marijuana is actively sold in shops to consumers of legal age. State Representative Carl Wilson, a Republican who helped sponsor the bill said, "Given the immediate privacy issues, this is a good bill protecting the privacy of Oregonians choosing to purchase marijuana."
Upon the proposal signing into law, Oregon marijuana retailers would have 30 days to destroy their customers' data from their databases and would be banned from such record-keeping in the future. Recreational marijuana buyers could still choose, however, to sign up for dispensary email lists to get promotional coupons or birthday discounts. The bill's provisions do not apply to medical marijuana patients.
Oregon's move was one of the first major responses to mixed signals about President Donald Trump administration's stance on the federal prohibition on marijuana, which is legal for recreational use in eight states plus Washington, D.C., and legal for medical purposes in more than half the country.
Worries began in late February when White House spokesman Sean Spicer first signaled a restriction may loom on recreational marijuana. A few weeks later, U.S. Attorney General Jeff Sessions said medical cannabis has been "hyped, maybe too much" and is "only slightly less awful" than heroin. Trump, however, has previously suggested the marijuana issue should be up to the states.