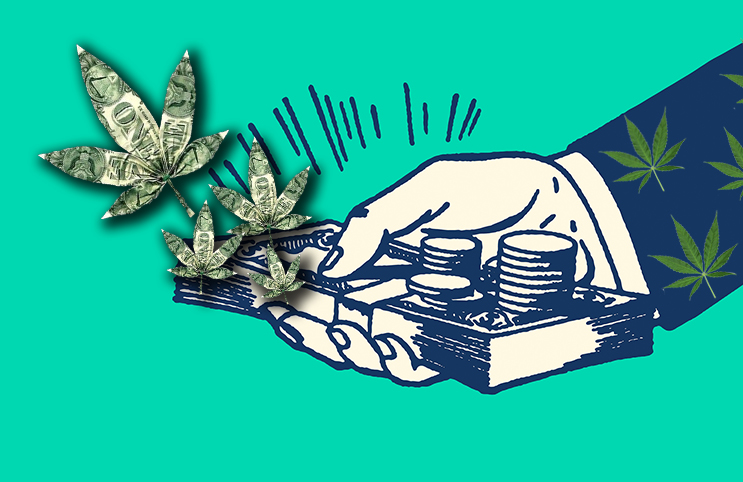 GT Biopharma Inc. (GTBP) Announces Corporate Update Conference Call

GT Biopharma Inc. (GTBP), a targeted immunotherapies company with close to market treatments for Central Nervous System (CNS) diseases (neurology and pain), will hold a conference call, hosted by www.biotechstocks.com, to discuss advancements made with the targeted immunotherapies currently in FDA clinical trials and its newly acquired CNS drugs.
---
Get The Full Details Of The (GTBP) Call, Here
---
PotNetwork Holdings (POTN) Ahead Of Earnings
So far this year, (POTN) has generated more than $5 million in revenue and the company has recorded very strong growth on a month-over-month basis. If we are speaking to growth, it's hard to miss the fact that in the month of July, the company generated $1.46m in revenue alone, when some companies struggle to do the same revenue in an entire year! Now we're looking into (POTN) ahead of their next earning's report, could this be the next catalyst for a continuation of the uptrend (POTN) is seeing right now?
---
Get The Full (POTN) Report, Now!
---
(LBUY) has been dubbed "The Priceline of Pot" and a "Game Changer" for the Marijuana Industry:
How Smart Investors Are Seeing Green with Leafbuyer Technologies, Inc. (LBUY)
---
---
Future Farm Technologies Inc. (FFRMF) Bringing Augmented Reality to the Cannabis Industry
Future Farm Technologies Inc. (the "Company" or "Future Farm") ( CSE : FFT ) ( OTCQB : FFRMF ) is pleased to announce that it has signed a license agreement with AR E1, LLC ("ARE1″) wherein the Company has acquired the exclusive right to use AR E1's patented technology in the cannabis industry. Future Farm and AR E1 will work together to merge augmented reality (AR) and ad-tech with the cannabis industry through the CannaCube Live™ platform. This transaction brings both an impressive portfolio of intellectual property as well as a very experienced development team whom have created over 300 AR apps for major clients like: Disney, Coca-Cola, Colgate, Toyota, Kellogg, AT&T, General Motors, Ford, Pirelli, FedEx, Chevrolet, as well as many other blue chip clients.
---
Click Here For Full (FFRMF) Release
---
MAPH Enterprises LLC., has been compensated $75,000 (CASH) by Potnetwork Holdings, Inc. via First Capital Ventures, Inc. an affiliate company for or "ZERO" shares of restricted or unrestricted common shares. We have been previously paid $21,000 (CASH) for coverage on Potnetwork Holdings, which has since expired. Pursuant to an agreement between MAPH ENTERPRISES LLC and FULL SERVICE MEDIA LLC, we were hired for a period of 1 month from 8/8/2017 – 10/7/2017 to publicly disseminate information about (LBUY) including on the Website and other media including Facebook and Twitter. We are being paid $20,000 (CASH) by FULL SERVICE MEDIA LLC a NON-affiliate company for or "ZERO" shares of restricted or unrestricted common shares. We own ZERO (0) shares of (LBUY) which we purchased in the open market. We may buy or sell additional shares of (LBUY) in the open market at any time, including before, during or after the Website and Information, provide public dissemination of favorable Information.An affiliate of MAPH Enterprises LLC, Midam Ventures has been compensated $550,000 by GT Biopharma, Inc. (GTBP) for a period beginning August 1st, 2017 and ending October 1st, 2017 to publicly disseminate information about GT Biopharma, Inc. (GTBP). We own zero shares of (GTBP). We may buy or sell additional shares of (GTBP) in the open market at any time, including before, during or after the Website and Information, provide public dissemination of favorable Information. Pursuant to an agreement between MAPH and Future Farm Inc., we were hired for a period of 60 days to publicly disseminate information about (FFRMF) including on the Website and other media including Facebook and Twitter. We are being paid $50,000 (CASH). We own 1 million common restricted shares of Future Farm. We may buy or sell additional shares of (FFRMF) in the open market at any time, including before, during or after the Website and Information, provide public dissemination of favorable Information. PLEASE READ OUR FULL PRIVACY POLICY & TERMS OF USE & DISCLAIMER