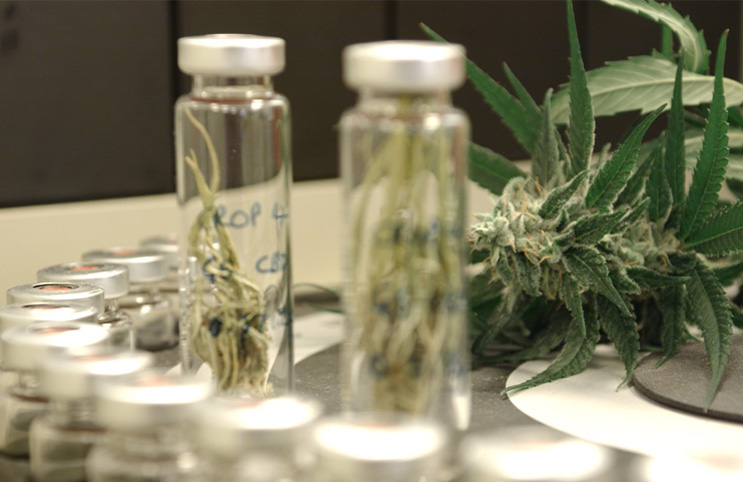 Although the biotech sector of the cannabis industry offers investors great opportunity and is comprised of some of the most mature public companies, we expect it to remain under pressure following the Nasdaq's plunge on Friday.
On Friday, the Nasdaq hit a record high before it ended the day down 1.8% and the tech sector is poised to tumble even further today.
Goldman Sachs Issues Valuation Warning
The Nasdaq's plunge follows a report from Goldman Sachs that included a valuation warning on stocks such as Facebook, Amazon, Apple, Microsoft and Alphabet. Goldman's report looked at the influence of these five stocks which have collectively added $600 billion in market cap this year, equal to the combined gross domestic product (GDP) of Hong Kong and South Africa.
Goldman's Robert Bouroujerdi writes that "while FANG has dominated investor focus, the nature of the acronym has expanded more broadly to encompass mega-cap tech. Indeed, the bigger story in our view is FAAMG – Facebook, Amazon, Apple, Microsoft and Alphabet – a group of five stocks which have been the key drivers of both the SPX & NDX returns year-to date. This outperformance, driven by secular growth and the death of the reflation narrative, has created positioning extremes, factor crowding and difficult-to-decipher risk narratives (e.g. FAAMG's realized volatility is now below that of Staples and Utilities)."
Weakness Creates Opportunity
Although we expect biotech cannabis stocks trade lower with the Nasdaq, this weakness will create opportunity for investors and we want to highlight three companies to monitor during this time.
Insys Therapeutics (INSY) has fallen almost 20% in the last week and we expect the shares to remain under significant pressure after Endo Pharmaceuticals (ENDP) was asked to remove their painkiller from the market.
Last week, Insys' former manager of reimbursement services, Elizabeth Gurrieri pled guilty to one count of wire fraud conspiracy and we expect this trend to continue with the other former managers and executives indicted. Insys is at the center of a Fentanyl crisis in the United States and we expect the shares to continue to trade lower over the near term.
Although we are concerned with Insys, we view Insys as an acquisition candidate and expect to see the company acquired this year. In July 2016, INSY announced that the FDA approved Syndros, an orally administered liquid formulation of the pharmaceutical cannabinoid dronabinol, a pharmaceutical version of THC. At the time of this announcement, INSY said that Syndros is awaiting scheduling by the DEA.
India Globalization Capital (IGC) is one of the few cannabis-focused companies that trade on the New York Stock Exchange (NYSE) and today, the company entered a definitive license agreement with the University of South Florida (USF). Under the agreement, IGC is the exclusive licensee of the U.S. patent filing entitled, THC as a Potential Therapeutic Agent for Alzheimer's Disease.
This is an important development and milestone for the company as it works toward the development of a potential cannabis-based blockbuster treatment for America's most expensive disease, Alzheimer's disease.
A lot of IGC's value is in the intellectual property and its previously filed patents. In September 2014, the company filed a patent for IGC-501 and IGC is currently finalizing the product development by conducting anecdotal testing. In August 2014, the company filed a patent for IGC-504 and in February 2017, IGC filed a patent for IGC-506. The company expects to file an additional patent to finalize these products later this year while advancing its refractory epilepsy treatment for dogs and cats (IGC-505 and IGC-503).
We are favorable on IGC's recent updates as it has pivoted fully into the biotech cannabis sector and will monitor how the market responds to this news. We have IGC on our watch list and continue to monitor developments around the company's cannabinoid-based therapies.
GW Pharmaceuticals (GWPH) has come off its recent lows and the shares are trading near $95. GW is trading at oversold levels after falling 30% from its 2017 highs and the company has several catalysts occurring in the second half of this year.
GW is changing the landscape of the biotech industry and the company already sells a cannabis-derived treatment for multiple sclerosis is 27 countries. GW is a company that investors need to watch as it continues to execute on its pipeline and create value for shareholders.
We consider GW Pharma to be one of the top long-term cannabis investments due to the following reasons: 1) It has the largest pipeline of products in advanced stages of FDA testing; 2) it has significant Wall Street coverage; 3) The company is led by a management team that continues to execute and create value for its shareholders; 4) GW owns some of the most valuable IP in the cannabis industry; and 5) The company has enough cash to cover the costs of its New Drug Application and Clinical trials.
Authored By: Micheal Berger