Today's Top Trending Stories [#breakingnews]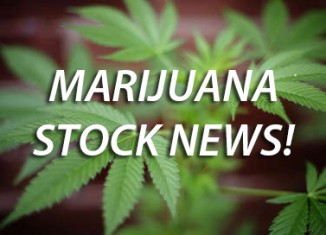 $VBIO Announces Positive Results for Cannabinoid Antibiotics

Vitality Biopharma, Inc. ( OTCQB : VBIO ) ("Vitality" or the "Company"), a corporation dedicated to the development of cannabinoid prodrug pharmaceuticals, and to unlocking the power of cannabinoids for the treatment of serious neurological and inflammatory disorders, today announced that it has obtained positive results demonstrating antimicrobial activity of cannabinoids and filed for patent protection on the use of cannabinoid compounds for the treatment of microbes including Clostridium difficile and other "superbug" pathogens.
---
Click Here Now To Read Full Release on (VBIO)
---
InCaseYouMissedIt: It's A Done Deal! VNNYF to Acquire Cannabis Biopharma Tech Company! What Does This Mean?
It's a Done Deal! Just as we had suspected, Vinergy Resources (VNNYF) today announced the signing of a definitive agreement to acquire 100% of MJ Biopharma, a cannabis technology company. We have been speculating for over a week that the halt of trading on the Canadian exchange for symbol VIN.CN was to allow for this completed acquisition, and we were right. The stock has gained as much as 36% since we re-initiated coverage on VNNYF last week in anticipation of this deal closing. But now the real fun begins…
---
Click Here Now To Read Full Update From (VNNYF)
---
$UBQU Renews its Popular Offer of Free Trial-Pack of CannazALL CBD GelCaps
Ubiquitech Software Corp. ( OTC PINK : UBQU ), through its subsidiary HempLife Today™ an innovative and growing Company offering the finest CBD (Cannabidiol), products derived from Hemp, is announcing that it is renewing its giveaway of a free Trial-Pack of six (6) CannazALL™ CBD GelCaps to the general public.
---
Click Here Now To Read Full Release From (UBQU)
---
$FFRMF Announces Cannabis Extraction Equipment Installed
Future Farm Technologies, Inc. (the "Company" or "Future Farm") ( CSE : FFT ) ( OTCQB : FFRMF ) is pleased to announce that the previously announced state-of-the-art extraction machine, purchased by the Company's majority owned subsidiary, FFM Consulting Services, LLC for the manufacture of concentrated cannabis oil and purified distillate, has been delivered to the California extraction facility.
---
Click Here Now To Read Full Release From (FFRMF)
---
Pursuant to an agreement between MAPH and a non-affiliate third party, we were hired for a period of 1 month from 5/1/2017 – 6/1/2017 to publicly disseminate information about (VNNYF) including on the Website and other media including Facebook and Twitter. We are being paid $150,000 (CASH) for or "ZERO" shares of restricted or unrestricted common shares. We own zero shares of (VNNYF) which we purchased in the open market.We may buy or sell additional shares of (VNNYF) in the open market at any time, including before, during or after the Website and Information, provide public dissemination of favorable Information.Pursuant to an agreement between MAPH and a non affiliate third party, we were previously hired for a period of 30 days to publicly disseminate information about (VBIO) including on the Website and other media including Facebook and Twitter. We were paid $100,000 (CASH) for or were paid "ZERO" shares of unrestricted or restricted common shares. We own zero shares of (VBIO) which we purchased in the open market. We may buy or sell additional shares of (VBIO) in the open market at any time, including before, during or after the Website and Information, provide public dissemination of favorable Information.Pursuant to an agreement between MAPH and Ubiquitech Software Corp., we were hired for a period beginning November 11 2016 and ending May 11, 2017 to publicly disseminate information about (UBQU) including on the Website and other media including Facebook and Twitter. We are being paid $0 (CASH) for or were paid "10 million" shares of restricted common shares. We may buy or sell additional shares of (UBQU) in the open market at any time, including before, during or after the Website and Information, provide public dissemination of favorable Information.Pursuant to an agreement between MAPH and Future Farm Inc., we were hired for a period of 30 days to publicly disseminate information about (FFRMF) including on the Website and other media including Facebook and Twitter. We are being paid $37,500 (CASH) for and were paid 1 million shares of restricted common shares. We may buy or sell additional shares of (FFRMF) in the open market at any time, including before, during or after the Website and Information, provide public dissemination of favorable Information.PLEASE READ OUR FULL PRIVACY POLICY & TERMS OF USE & DISCLAIMER